Salman Khan at the Vaccination Center. (Photo- Virl Bhayani)
On the one hand, Salman Khan's house is celebrating on the occasion of Eid, on the other hand, Salman Khan is seen in Dadar's Vaccination Center. His parents have also taken both vaccine doses before Salman.
On the occasion of Eid, where on one side Salman Khan's house is celebrating, on the other side Salman Khan is seen in Dadar's Vaccination Center. Salman Khan has taken his second dose of Kovid vaccine today. Salman Khan's most awaited film 'Radhe' has been released a day already. In such a situation, Salman was very busy in the promotion of his film for some time. In such a time, Salman has taken the second dose of his vaccine. A video of Salman Khan has surfaced in which he is seen going to the vaccination center in Dadar. Let me tell you that Salman has also appealed to people to apply vaccine. Salman said, 'I am not an expert, but I think if a single person wants to be corona, then the situation will remain the same. All this can be stopped only when all the people get vaccinated. Salman Khan's parents have also taken both doses. Please tell that Salman's sister Arpita also had a corona in the month of April.
On the other hand, today Eid celebrates Salman's house at the Gallegy apartment. Salman's mother Helen and her sister Arpita Sharma have also reached his home on this occasion. Arpita was seen here with both her children.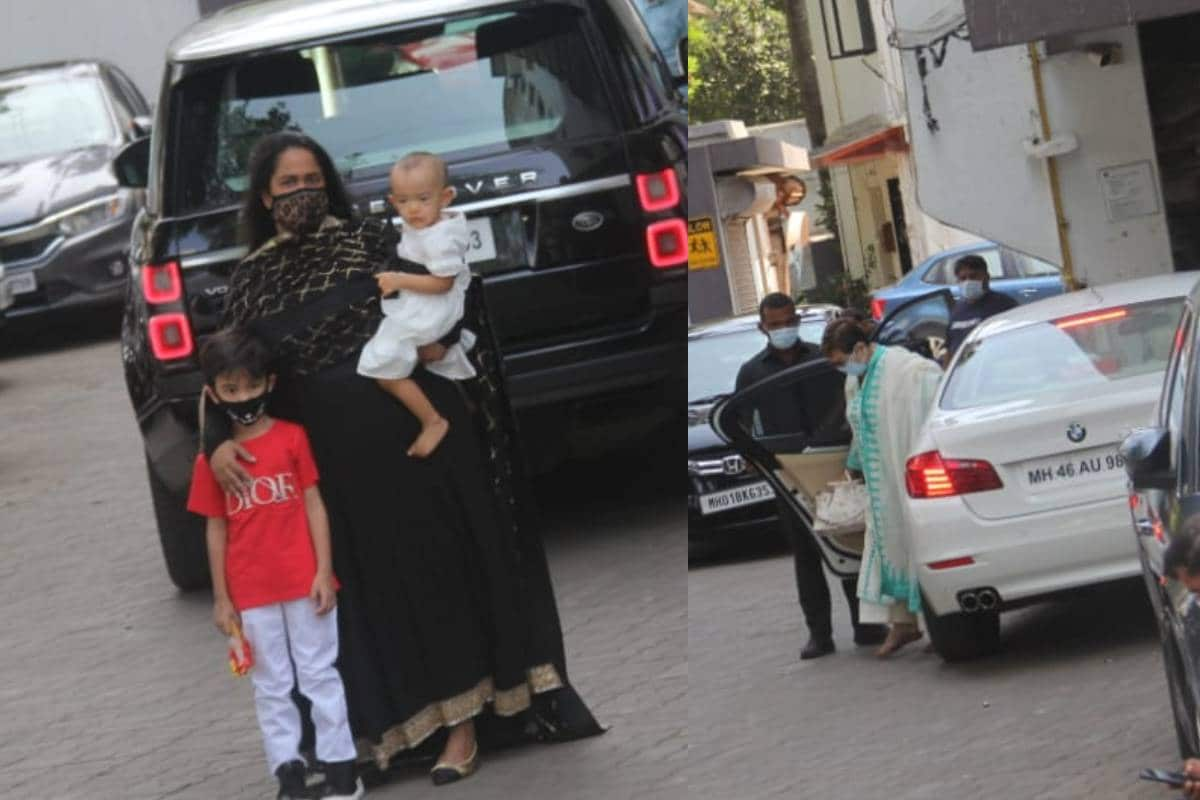 Salman's sister Arpita along with her children and her mother Helen Gallegy arrived at the apartment. (Photo courtesy – Virl Bhayani.)
Talking about Salman's release film Radhe a day ago, after almost a year of waiting, the finaly 'Radhe: Your most wanted brother' (Radhe: Your Most Wanted Bhai) was released on the occasion of Eid. The film received tremendous response as expected. In India, it was not released in the movie theater, but in Overseas, Salman Kahan's power was seen at the box office on the very first day. The craze for Salman Khan in India was that around 1.5 million people had logged on the G5 at 12 pm during the premiere. The condition was that initially Zee's server crashed. According to the information received from the experts, 'Radhe' collected a collection of $ 4 million, ie 2.94 crore rupees. This is a great start. Now everyone is waiting for the weekend. It is believed that the film can be seen on a large number of weekends.