Big B has given Bollywood many hits like 'Zanjeer', 'Shahenshah', 'Mohabbatein', (File photo)
Amitabh Bachchan is the emperor of Bollywood. He has played all kinds of roles on screen in the last four decades. There is a funny anecdote related to Big B, when he had to ask for clothes from his famous friend and wear them.
New Delhi
Amitabh Bachchan is a very big name in the Hindi film industry today. Today, the fans of actors are not in millions, but in crores. Amitabh has made a deep impact on people of all ages with his personality and acting. He has played all types of roles on screen. Big B has given many super hit films like 'Zanjeer', 'Shahenshah', 'Wala', 'Mohabbatein', 'Kabhi Khushi Kabhi Gham' to Bollywood. Today we are going to tell you an interesting story of Amitabh's life, when he had to ask for clothes from a special friend. It was a matter of 1976. At that time Amitabh Bachchan had made his place in Bollywood. The Government of India had announced the award of Padma Bhushan to Amitabh's father Harivansh Rai Bachchan. Only 2 people could attend this award function officially, but the whole family wanted to join it.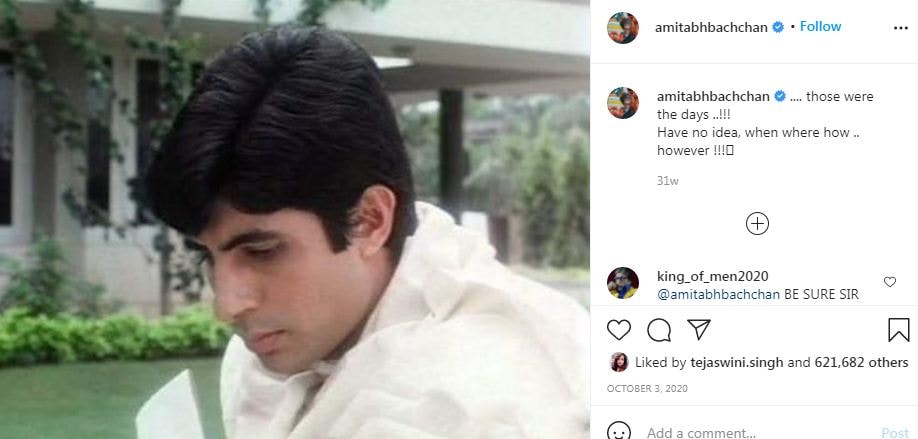 (Photo courtesy Instagram / Amitabh Bachchan)
After deliberations, it was decided that both sons Amitabh and Ajitabh would go with the father. Together, the trio will wear a black suit. Taylor was summoned to sew three suits. If the news is to be believed, then on the day Harivansh Rai Bachchan had to leave for Mumbai from Delhi with Amitabh and Ajitabh, Ajitabh's health deteriorated. This led to his cancellation. When Amitabh Bachchan reached Delhi with the father, he stayed in a hotel. When Amitabh opened the suitcase, he saw that Jaya Bachchan had put Ajitabh's suit in Amitabh's suitcase. Amitabh was tall, so Ajitabh's pants were not coming to him. That's when he remembered his friend Rajeev Gandhi. Amitabh called Rajiv and told the whole thing. Shortly thereafter, Rajiv Gandhi sent his kurta for pajamas and shawls for Amitabh. Then Amitabh attended the function with his father wearing Rajiv's clothes.