Karthik Aryan shared his photo by 'blackening' his mouth. (Photo: kartikaaryan / instagram)
Karthik Aaryan (Kartik Aaryan) has created a stir on social media by sharing a strange photo. Karthik has shared the photo by putting a black pack on the entire mouth, leaving only his eyes.
Mumbai.
People are commenting on the photos shared on Instagram of Bollywood actor Karthik Aaryan. Karthik has shared a photo by putting a black color on his mouth or doing a Peace Sign or saying a Victory Sign. People are giving different types of comments on this photo, but some people also understand the message of Karthik. Fans are also understanding the truth behind their black face amidst the corona epidemic. Kartik Aaryan has posted a photo of himself on Instagram account. After seeing this picture, not only celebrities, but also their fans are seen reacting differently. In the photo shared by Karthik Aryan, his entire face looks black. Except his eyes and lips, the entire face looks like a black pack. However, this photo of him seems to give the message of wearing a mask. With this photo, Karthik wrote in the caption 'Wrong Captions Only'. Fans are commenting differently on this photo. One has understood the message given about wearing a mask and has written 'it is the right thing', then one has written that 'it is the same that the mother jokingly said that cow dung is good for your face and you gave it Put it on your face '. One user wrote 'Cow Dung Therapy', someone wrote 'Who lost this child'. One user commented 'Shoot with eyes'. One wrote 'When the parents say that the girls are coming to see'.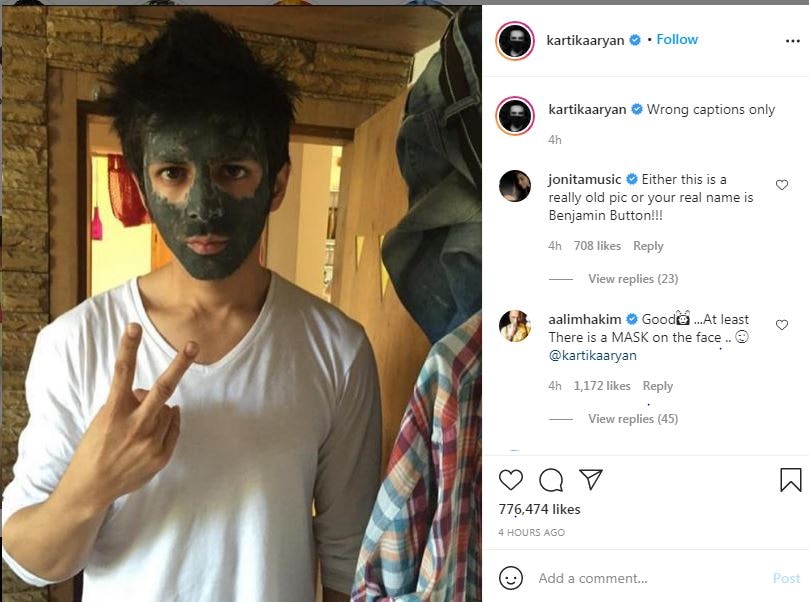 (Photo: kartikaaryan / Instagram)
Along with the comment, this photo has also been flooded with likes. Within 4 hours, more than 7 lakh 78 thousand likes have come on this photo. It is believed that Karthik is giving the message of winning the battle with Corona by wearing Aryan mask. Earlier too, Karthik Aryan gave his head in the photo of the dinosaur and shared the photo and told that the corona gets caught in the same way by those who roam without a mask.