In Australia-New Zealand, Radhey's collection was 65 lakhs. (Photo courtesy: zee5premium / Instagram)
Theater is closed in most places amidst the Covid-19 Pnademic, but Salman Khan has kept his promise to the fans. 'Radhe: Your Most Wanted Bhai' (Radhe: Your Most Wanted Bhai) has been released on Eid and has received a great response on the second day as well.
Mumbai.
Salman Khan's film 'Radhe: Your Most Wanted Bhai' is being seen worldwide. This is the first time in the history that no film of Salman Khan has been released in the Indian theater, but from Dubai to Australia and New Zealand, the film has done better business than the average on the first and second day. According to the report, the second day overseas box office collection of 'Radhey: Your Most Wanted Bhai' is good. Box office collections in Australia and New Zealand were up 55 per cent from the first day. According to the report of the second day of the Australia box office, the collection of 69 screens was $ 74,966 i.e. 54.93 lakhs. In New Zealand, the collection of 26 screens was $ 13,607, ie 9.97 lakhs. Overall business was 64.9 lakhs, while on the first day this figure at Australia box office was $ 48,706 i.e. 35.77 lakhs. In New Zealand, it was $ 8,258, or 6.05 lakh. There was a total collection of 41.67 lakhs. However, on some screens there was an increase in the collection on the second day as compared to the first day.
The film 'Radhe …' made a record.
At the same time, the magic of Salman Khan was also seen in the UAE. Salman Khan's film has received tremendous response at the first global premiere in UAE. According to information received from experts, 'Radhe' has collected a collection of $ 2.94 million.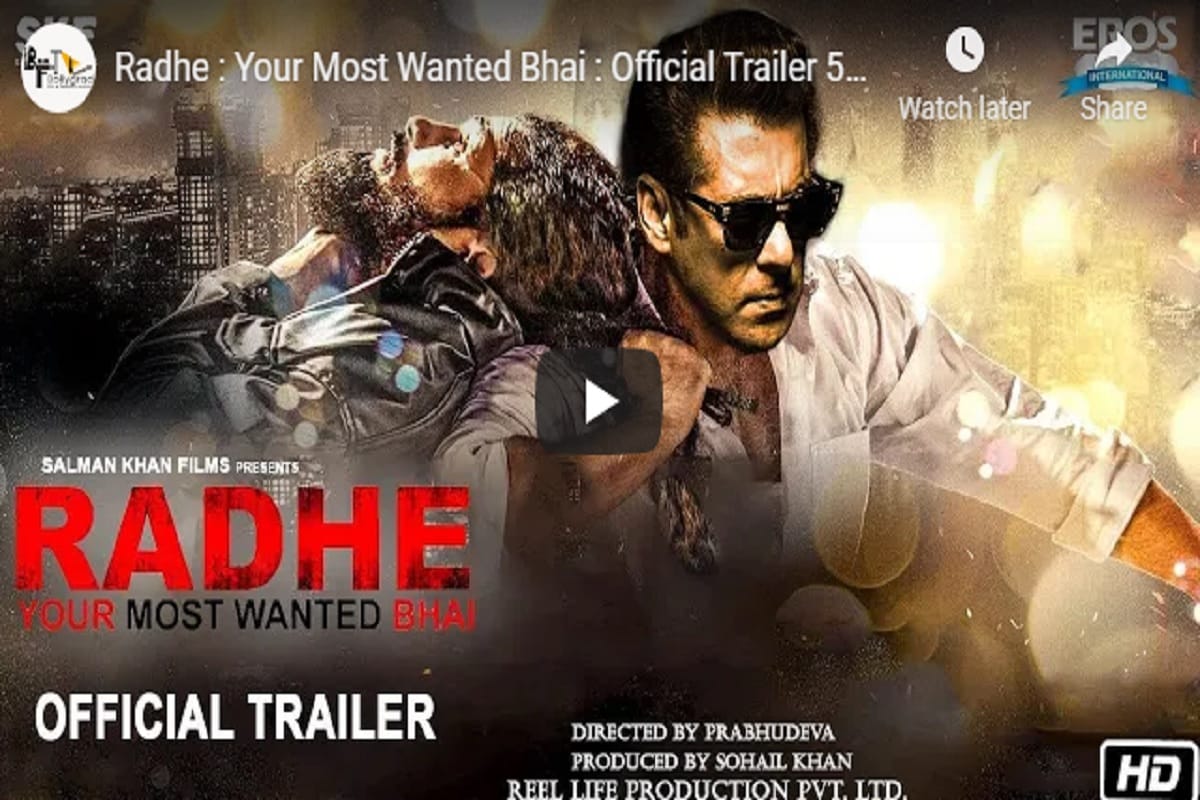 After waiting for almost a year, the final Radhe: Your most wanted brother was released on the OTT platform on the occasion of Eid. As expected, the film received tremendous response. In India, it was not released in the movie theater, but in Overseas, Salman Kahan's power was seen at the box office on the very first day. This dominance continued for the second day as well. The craze for Salman Khan in India was that around 1.5 million people had logged on ZEE 5 during the premiere on May 13 at 12 noon and the G5's server crashed due to heavy traffic.