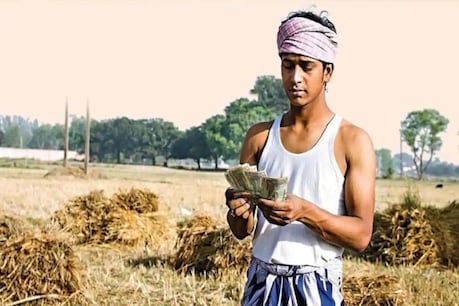 Prime Minister Kisan Samman Nidhi Yojana
The farmers who have not received the money for the 8th installment of the Prime Minister Kisan Samman Nidhi (PM Kisan Samman Nidhi Yojana) scheme can complain on these numbers issued by the government.

New Delhi:
There is good news for farmers waiting for the eighth installment of PM Kisan Samman Nidhi (Pm kisan samman nidhi). The central government has transferred the money of the 8th installment to the account of crores of farmers of the country. If you have also registered, then check in this way whether the money has come in your account or not and if you have not, then make a complaint as soon as possible. Otherwise your 2000 rupees may be lost. Let us know that the central government gives financial assistance of Rs 6000 to small and marginal farmers in a year. This amount is deposited directly into the accounts. It is deposited in three installments of 2000–2000 rupees of 6000 rupees. If a farmer has not received money under this scheme, then you can call this helpline of the Union Agriculture Ministry and get information about it.
Also read: Petrol Price Today: Today petrol-diesel became costlier, check prices across 100 cities including Indore-Bhopal
Check your money status like this-step 1.
First of all, visit the official website of PM Kisan https://pmkisan.gov.in/.
Step 2.
Here you will find the option of 'Farmers Corner' on the right side.
Step 3.
Click on 'Beneficiary Status' option here. Now a new page will open.
Step 4.
On the new page, select one of the options from Aadhaar number, bank account number or mobile number.
Step 5.
Fill in the number of the option you have selected. After this, click on 'Get Data'.
Step 6.
After clicking here, you will get information about all transactions. That is, when the installment came into your account and which bank account was credited.
Step 7.
You will also find information related to the eighth installment of PM Kisan.
The installment of these people will soon be transferred
Apart from this, let us know that if 'FTO is generated and payment confirmation is pending', it means that the fund transfer process has started and the installment will be transferred to your account in a few days. So these people do not have to be disturbed.
Also read: GST Council meeting to be held on May 28! Decision can be taken on these important issues
Can contact on these numbers
If the installment of Kisan Samman Nidhi is not received, then the PM can file a complaint on the helpline number of the Kisan Samman. For this, you can call the helpline number 011-24300606 / 011-23381092. Apart from this, from Monday to Friday, PM-KISAN Help Desk can be contacted on email (email)
[email protected]