Mahesh Manjrekar is making a film on Veer Savarkar's life. (Photo Credits:officialsandipssingh/maheshmanjrekar Instagram)

The film, based on Veer Savarkar, is produced by Sandeep Singh and Amit B Wadhwani. While Mahesh Manjrekar will direct it. Not only this, Mahesh Manjrekar is also the co-writer of the story of this film.
Mumbai :
Today is the birth anniversary of the freedom fighter Vinayak Damodar Savarkar. On the occasion of Veer Savarkar's birth anniversary, many leaders including Prime Minister Narendra Modi and Union Minister Prakash Javadekar have paid tribute. It has been announced to make a film 'Swatantra Veer Savarkar' on the birth anniversary of Veer Savarkar. It will be a feature film narrating the saga of Veer Savarkar's contribution to the freedom struggle. By sharing the first poster of this film, producer Sandeep Singh has given information about it. Along with directing this film, the work of writing the story is also being done by well-known director Mahesh Manjrekar. The film's producer Sandeep Singh shared the poster of this film on his Instagram account and wrote, 'The whole story of the history of independence is yet to be known! Meet Swatantra Veer Savarkar very soon… Next it writes 'Veer Savarkar is both criticized and praised. He has been described as a polarizing person. But I think people don't know much about them. No one can deny that he has played an important role in freeing the country. Our attempt is to tell about his life and his journey.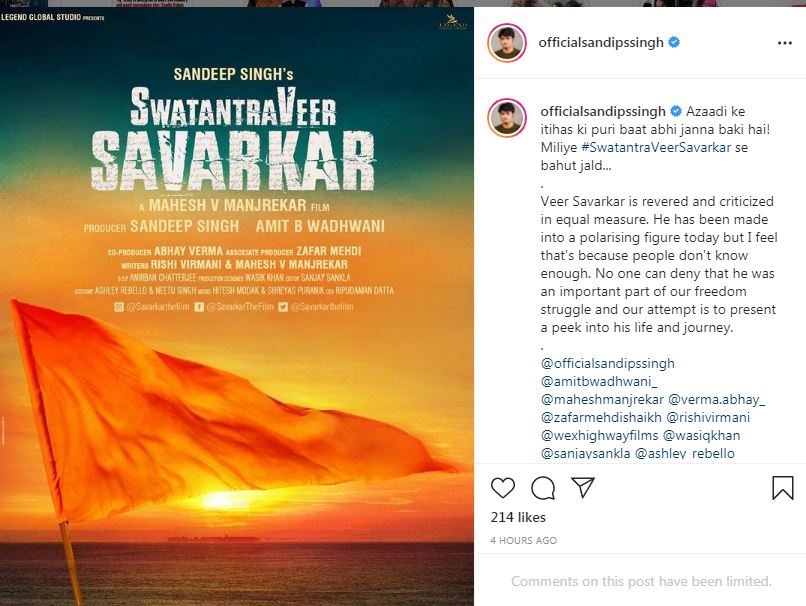 (Thanks: officialsandipssingh / Instagram)
While talking to the media, well-known director Mahesh Manjrekar says that 'I am very much influenced by the life of Veer Savarkar and as a director it is very challenging for me to make a film on such a great personality'. With this, the audience will also get a chance to know many unheard things about Veer Savarkar. Veer Savarkar was born in Bhangur village near Nashik in Maharashtra. He was a fighter of the Indian independence movement and a strong nationalist.