Actor Ayushman Khurana is getting emotional. (Sincerely: ayushmannk / instagram)
Ayushmann Khurrana has recalled the old days while talking about the philosophy of life on social media. Ayushmann says that if we get a chance to perform on stage again, I will probably cry.
Mumbai: Singer, Writer and TV Host Ayushmann Khurrana He is a talented actor of Bollywood. Ayushman is known on the screen as an artist who brings life to the life of the common man. The actor has a lot in his bag from the National Award Winner to the Filmfare Award Winner. Ayushmann started his career in singing as a contestant in a reality show. Today Ayushman is considered one of the best actors of Bollywood due to his talent. Ayushman shared a post on social media and wrote that if he gets a chance to perform on stage again after the epidemic ends, he will probably cry.
Ayushman Khurana has shared a photo on his Insta Story by grabbing a video of the old days. In this, 'Pani Da Rang' songs are seen singing on the stage in front of the crowd. This is the song of his debut film 'Vicky Donor'. Sharing this photo, he wrote, 'Do we see some kind of light at the end of the tunnel? Whenever I get to do it again, maybe I will cry '. On this original post, a fan wrote, 'I had a chance to go to this concert held in Chandigarh! It is a very happy feeling. At the same time, others wrote 'it will be like a dream'.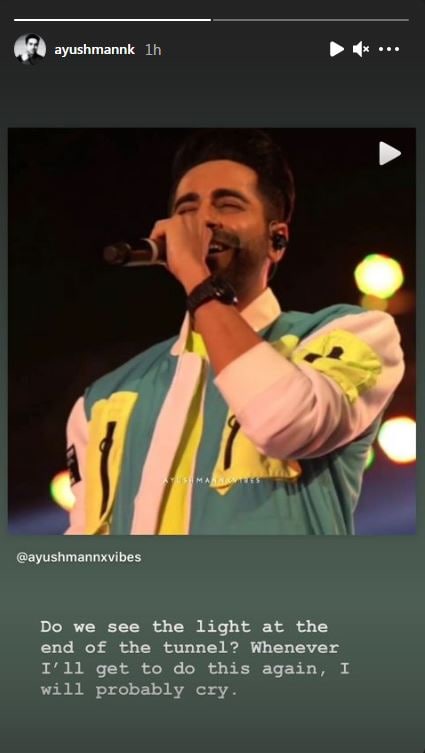 (Sincerely: ayushmannk / instagram)
Recently Ayushman Khurana and his wife Tahira Kashyap have contributed to the relief fund of Maharashtra CM to help people affected by the Kovid-19 epidemic. The actor had said that 'We are in a lot of trouble since last year. This epidemic has broken our heart, forced us to endure pain and suffering. This epidemic is asking us to show cooperation. People all over India have come forward to help each other. Tahira and I thank all those who have inspired us to do so '.