Pankaj Kapoor also directed Shahid in his film 'Mausam' (Photo Credits: Instagram/pankajkapur.official)
Shahid Kapoor will be seen acting with his father Pankaj Kapoor in the film 'Jersey'. The film, being directed by Gautham, is a Hindi remake of a Telugu film.
New Delhi: Today we are going to narrate an interesting anecdote related to the actor on the birthday of Pankaj Kapoor, which was revealed by the actor himself in an interview. Shahid Kapoor and Pankaj Kapur were seen acting together in the film 'Shaandaar'. Apart from him in the film, Alia Bhatt and Sanah Kapoor were in the lead roles. According to media reports, Pankaj Kapoor had told in an interview that he started feeling insecure due to the acting of his son Shahid Kapoor. The film, directed by Vikas Bahl, did not do well at the box office.
Critics also did not have a good opinion about the film 'Shaandaar'. Sharing the experience of working with Shahid in the film, Pankaj Kapoor said that he was feeling very insecure in himself. Due to this he started behaving like a selfish person. He says, 'I didn't try to correct Shahid during the act. I was feeling insecure and wanted to focus on my role. I was selfish. It was not my job to correct Shahid as an actor. It was the director's job on the set.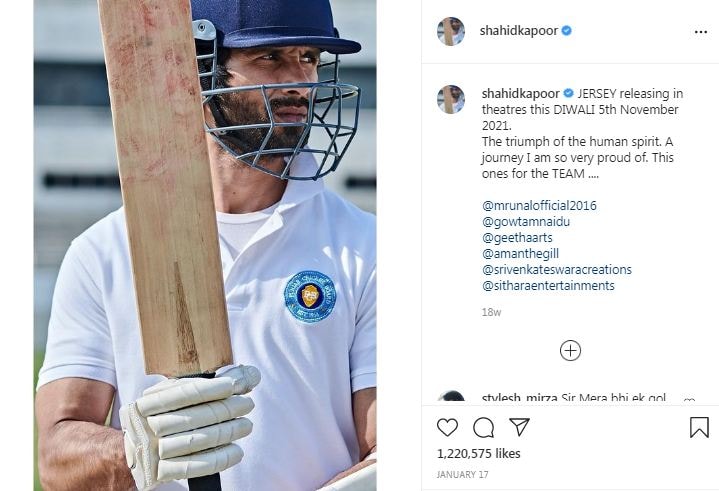 (Photo Credits: Instagram/shahidkapoor)
Now once again the son-father duo will be seen sharing the screen. The two will be seen together again in the Hindi remake of the Telugu film 'Jersey'. Shahid is playing the role of a cricketer in the film, while Pankaj Kapur has become his coach. This is the story of a cricketer's comeback. Mrunal also played an important role in this film. According to the news, this film will be released in theaters on November 5. Let us tell you that Pankaj also directed Shahid in his film 'Mausam'.