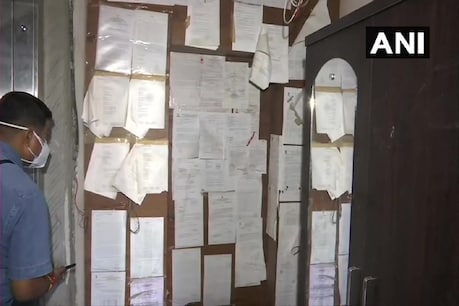 Notice at the entrance of Mehul Choksi's house in Mumbai. (ANI/29 May 2021)
PNB Scam: Fugitive businessman Mehul Choksi is wanted in a loan fraud case of Rs 13,500 crore from Punjab National Bank.
Mumbai. Several banks, courts and investigative agencies have pasted a number of notices at the entrance of fugitive diamantaire Mehul Choksi's residence in Mumbai. All these notices are from 2019 to 2021. It is worth mentioning that Choksi is wanted in a loan fraud case of Rs 13,500 crore from Punjab National Bank.
Choksi and his nephew Nirav Modi allegedly forged Rs 13,500 from Punjab National Bank. Nirav Modi is in jail in London and is fighting his extradition case. Choksi had taken citizenship of Antigua and Barbuda in 2017 using the program to acquire citizenship by investment and fled India in the first week of January 2018. The case of forgery from the bank came to light later. Both Choksi and Nirav are facing CBI probe.
Meanwhile, India is in touch with the governments of Dominica, Antigua and Bermuda to bring back fugitive businessman Mehul Choksi from the Caribbean region. Sources gave this information on 27 May. Choksi had recently escaped from Antigua and Barbuda and was arrested in neighboring Dominica in the wake of Interpol's 'yellow notice' against him.
Sources said that India was in touch with Antigua and Barbuda in this matter and has now established contact with the Dominica government. A source said, "We are in touch with him. We are strongly interested in bringing back Choksi and other fugitives. He said, 'Our focus is to bring them back to the country at the earliest.' It is understood that the investigating agencies are proceeding with the case to bring Choksi to India.
Antigua and Barbuda Prime Minister Geston Brownie said that he has asked Dominica to hand over the diamond merchant directly to India. After the news of Choksi's arrest in Dominica on the night of 25 May, Brownie told the media that he had given clear instructions to the administration of Dominica regarding sending Choksi to India.