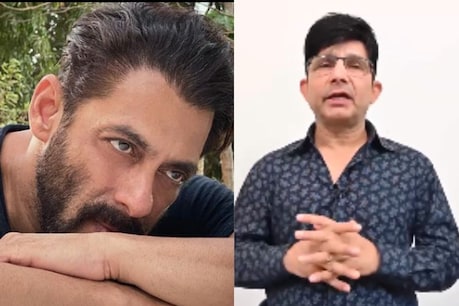 The controversy between KRK and Salman is not stopping. (Photo Credits: beingsalmankhan/kamaalrkhan/Instagram )
Kamal R Khan has started a war against Salman Khan on social media. Sometimes by posting videos and sometimes making allegations continuously. Now the lawyers of DSK Legal have been termed as liars.
Mumbai : Bollywood actor Salman Khan The cold war continues between the film critic Kamal R Khan. Salman had sent a legal notice to Kamal by filing a defamation case. After this, Salman's legal team DSK issued a statement saying that 'Kamaal R Khan has shared tweets and videos alleging that Salman Khan has done a defamation case against him for the negative review of the film 'Radhe'. . this is not right. The case has been filed for defaming Salman Khan as corrupt and his brand Being Human involved in fraud, manipulation and money laundering. In response, Kamal shared a new video and called Salman Khan's lawyers as liars.
Film critic Kamal R Khan shared a new video on Instagram and wrote in the caption 'Salman Khan is a lawyer's liar'. In this video, Kamal is telling that 'Friends, as you all know that the lawyers of DSK Legal are sorry. is. I will not be able to say some things here, because of the order of the court.. It is for the judge to decide whether this definition case is true or not. All I can say with certainty is that these DSK lawyers are lying completely because this defamation case is only for Radhe's review. And now I will prove this to you.
KRK further says, 'See how the legal system works. If a man has committed 10 crimes, then a case of 10 crimes cannot be run against him. There is a different case for each crime. But with every crime, the details of the remaining 9 crimes are written. To prove that he is indeed a criminal. The same type of defamation case can be done for the same, 10 things cannot be combined to make a defamation case.