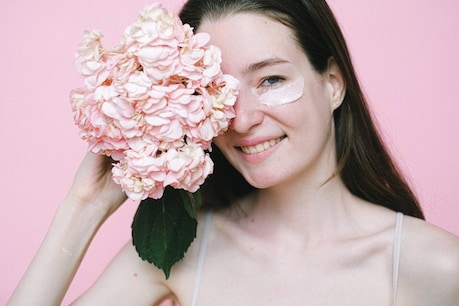 Under eye dark circles can disappear in a few days with regular use of homemade eye packs. Image Credit : Pexels/Anna Shvets
You can easily reduce Under Eye Dark Circles at home too. These Homemade Eye Packs are not only chemical free, they also do not harm your delicate skin.
Homemade Eye Pack: Dark circles under the eyes have become a common problem not only for women but also for men. There are many reasons for this, which include stress, lack of adequate sleep, drinking less water, changes in hormones, haphazard lifestyle, genetic problems. Most people use expensive products available in the market to get rid of it, but even after this they do not get rid of this problem. Not only this, sometimes products containing such chemicals also harm our delicate skin. In such a situation, by adopting some home remedies, you can reduce these dark circles safely. Here we are telling you some such home remedies, with the help of which you can prepare Homemade Eye Pack at home, whose regular use can make under eye dark circles disappear in a few days. So let's know how to make it.
prepare like this
To make an eye pack, a small spoon of almond oil and 5 drops of orange oil are needed. Now mix almond oil and orange oil in a bowl and massage it around the eyes with this homemade oil. Take care that the oil does not get inside the eyes. After a light massage for 10 minutes, leave it like this.
Read also: Summer Style: Linen is in fashion this summer season, in these 5 ways to carrywhen to put
You apply this mixture before sleeping at night and leave it like this overnight. Your eyes get maximum rest while sleeping, in such a situation they also work better.
why is it beneficial
almond oil
Actually, talking about the benefits of almond oil for the eyes, it has anti-inflammatory properties, using which not only reduces the dark circles of the eyes but also provides relief in the problem of puffy eyes. It also acts as skin lightening and due to its moisturizing properties, the skin around the eyes does not become dry.
Read also: If you want to get rid of torn ankles, then do this remedy, the effect will be visible only overnight
orange oil
On the other hand, if we talk about the benefits of orange oil for the eyes, then orange oil is rich in vitamin-C which can reduce dark circles rapidly. Apart from this, it has antiaging properties that work to reduce wrinkles around the eyes. It also removes dark spots on the skin and also removes the problem of tanning under the eyes due to strong sunlight. (Disclaimer: The information and information given in this article is based on general information. Hindi news18 These are not confirmed. Please contact the concerned specialist before implementing these.)