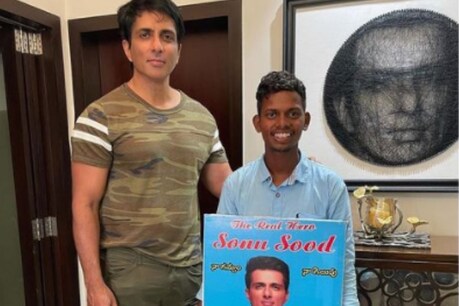 Sonu Sood remains active on social media. photo [email protected]_sood/Instagram
Mumbai. Fans of actor Sonu Sood, who became the messiah for the people during the Corona period, come from far and wide to meet him. He often mentions this on social media. Sonu Sood has said this many times that whatever he is able to do, he is getting it because of the prayers of his fans. Recently, he shared a picture with one of his fans, in which he told how he reached barefoot from Hyderabad to Mumbai to meet him.
Sonu Sood has shared a picture on his Instagram account. In the picture, he is seen posing with one of his fans. In this picture, his fan is seen smiling holding a poster of his favorite hero in his hand. The poster board has 'Hyderabad to Mumbai' written on it.
Sharing his picture with his fan, Sonu wrote- 'Venkatesh, this boy has come barefoot from Hyderabad to Mumbai to meet me. However, transportation was arranged for him to reach here. He is really inspirational. I am grateful for this.'
Along with this, the actor, requesting all his fans, further writes, 'Please! I am not encouraging anyone to take such trouble. I love you all very much.
In the picture, the smile of Sony's fan is telling that he was eager to meet his favorite hero.
Let us tell you that more than films, Sonu Sood is in the headlines for helping people continuously since the lockdown last year. Whether it is saving people from Corona or arranging people's jobs, Sonu Sood is doing a noble job by helping people by doing everything possible. He remains very active on social media.