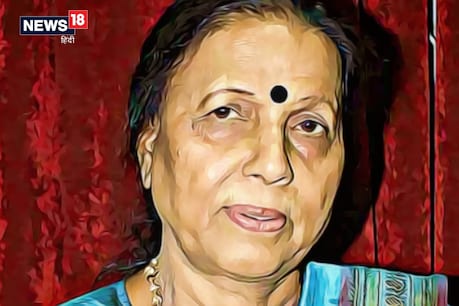 RIP Indira Hridayesh: Dr. Indira Hridayesh was a big pillar of Uttarakhand's politics.
RIP Dr Indira Hridayesh: The self who lived politics in the era of former Chief Minister Hemvati Nandan Bahuguna and Narayan Dutt Tiwari. Indira Hridayesh's stature was such that she was popular among politicians and MLAs in Uttarakhand as 'Didi'. Whether Congress, whether BJP, everyone used to come to consult him.
Dehradun. In 2016, when there was a rebellion in Uttarakhand Congress and 10 MLAs including former CM Vijay Bahuguna, Harak Singh Rawat, Subodh Uniyal joined BJP. Then President's rule was imposed in the state. At such a time, the leader who stood like an iron wall with Harish Rawat's government was Indira Hridayesh. There were many occasions when there were differences between Harish Rawat and Indira Hridayesh politically, but at the time of crisis, Hridayesh did not leave Rawat's side.
At this stage of age, 80-year-old Indira Hridayesh had been ill for some time. A few days ago, she returned from Delhi after getting treatment. He had also defeated Kovid. In the midst of all this, he gave up his life in Delhi on Sunday morning. Late Hridayesh, who lived politics during the era of former Chief Minister Hemvati Nandan Bahuguna and Narayan Dutt Tiwari, was such that in the state of Uttarakhand, at the age of 20, she was popular as 'Didi' among leaders and MLAs. Did the Congress, the BJP, did all come to Didi for consultations.
As Leader of the Opposition and Parliamentary Affairs Minister Late Hridayesh, it was difficult to find a cut in the words. BJP leaders also used to consult him in parliamentary matters. Remembering him, former CM Vijay Bahuguna told News18 that late Indira Hridayesh was the first person who advised him to join politics when his father and former UP CM Hemvati Nandan Bahuguna passed away.
Indira Hridayesh, who reached the Uttar Pradesh Legislative Council for the first time in 1974 as a teacher leader, often used to say, relationship is everything in politics. Ideology may be different, but there is no place in politics for estrangement. Born in the Brahmin family of Kumaun in 1941, Late Hridayesh was a frequent member of the Uttar Pradesh Legislative Council. When the state of Uttaranchal (later Uttarakhand) was carved out of UP in 2000, she was the leader of the opposition. In the 2002 elections, she reached the assembly elected from Haldwani and emerged as the most powerful minister in Narayan Dutt Tiwari's government. He left his identity as a PWD minister. However, Indira lost to Hridayesh Haldwani in the 2007 elections and this tension was always in her mind. She was very active for the elections to be held in 2022. She appeared two days ago during a protest against the rising oil prices of the Congress. After the departure of Indira Hridayesh, the vacuum already created in the Uttarakhand Congress has deepened.