Captain Simon Kya handling Christian Eriksen (AP)
Denmark midfielder Kristian Eriksson suddenly fell on the field during the match. In such a situation, before the arrival of the medical staff, Captain Simon Kya saved them.
New Delhi. During the match against Finland in the Euro Cup (EURO 2021), Denmark's midfielder Kristian Eriksson suddenly collapsed on the field. He had to be taken to the hospital and this incident shook the whole world. Everyone is praying for Ericsson. This accident has made Denmark's captain Simon Kya a hero.
Everyone is praising the effort made on his behalf to save Ericsson's life. Shortly before half time, Ericsson suddenly fell on the ground. He had been running from the Finland penalty area. Referee Anthony immediately called for help. Denmark captain Simon Kya gave him CPR as soon as Ericsson fell.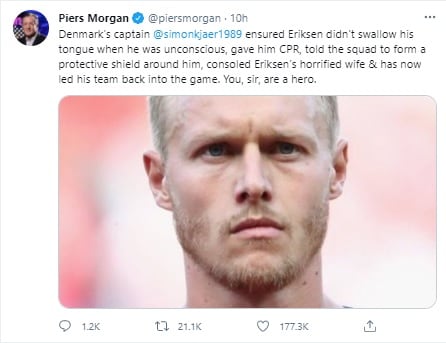 He tried to keep Ericsson in the correct position and ensured that he did not swallow his tongue, which would have made it very difficult for Ericsson to revive. The Danish captain corrected Ericsson's position.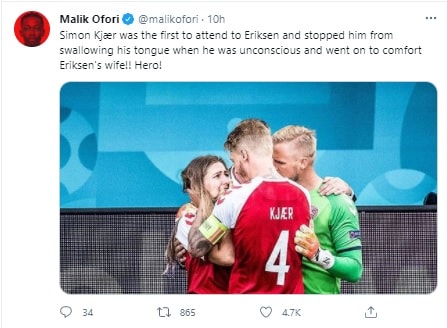 Read also:
2 heart-wrenching accidents in a day on the field, at Ericsson-du Plessis Hospital, know health updates of both
French Open: Barbara Krejcikova became champion, Czech Republic got the title after 40 years
After the match, team doctor Morten Boesen also said that Ericsson received a life-saving cardiac massage on the pitch and that Ericsson spoke to him before being taken to the hospital.
After this the Danish captain also took over Ericsson's scared wife and after all this he also captained the team when the match resumed. The match started again at 12 pm Indian time and Finland won the match 1-0.