Aishwarya-Salman remembered the day 22 years ago. (Photo Credits: beingsalmankhan/aishwaryaaraibachchan_arb/Instagram)
When Aishwarya Rai Bachchan thanked Sanjay Leela Bhansali and the fans, remembering the loving moments of 'Hum Dil De Chuke Sanam', Salman Khan expressed surprise that It's been 22 years.
Mumbai. Aishwarya Rai (Aishwarya Rai), Salman Khan and Ajay Devgn starrer film 'Hum Dil De Chuke Sanam' completed 22 years. On this occasion, where Aishwarya shared photos from the time of shooting on her Instagram, Salman Khan also remembered the days of shooting by sharing his throwback photo with Sanjay Leela Bhansali.
Aishwarya Rai has shared many photos of her shooting with Sanjay Leela Bhansali on Instagram. With these photos, Aishwarya has expressed her love by remembering the old days of the 1999 film 'Hum Dil De Chuke Sanam'. Aishwarya writes in the caption with her photos – 22 years 'Hum Dil De Chuke Sanam', I am missing the days filled with love … but my dear Sanjay .. it is evergreen .. forever … thank you .. To all the viewers of the country and the world..and my well wishers..thank you all for their love'. As always, Aishwarya is looking very beautiful in these photos. Fans are also praising Aishwarya's beauty and telling her her desire to see her again on screen.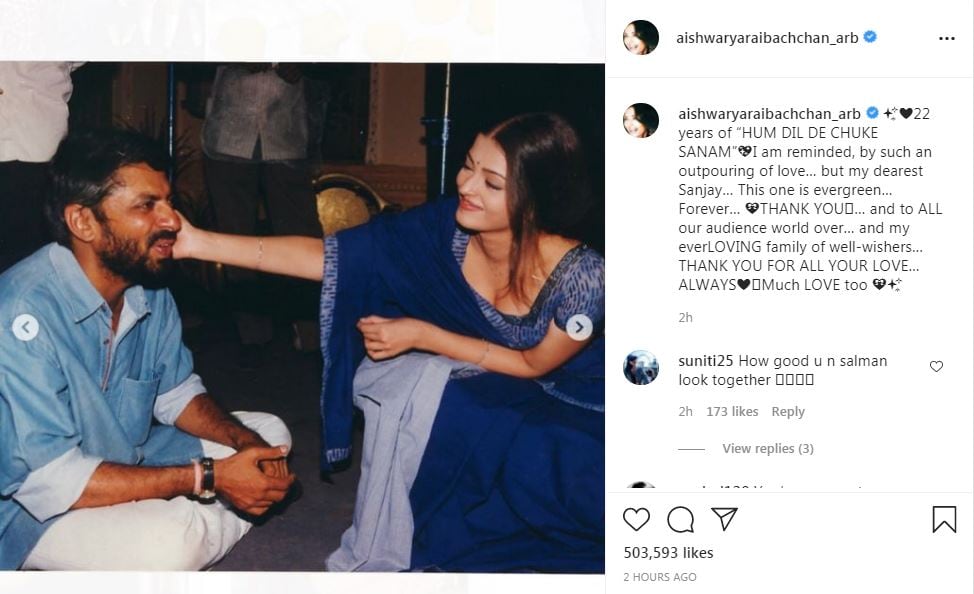 (Photo Credits: aishwaryaaraibachchan_arb/Instagram)
At the same time, Salman Khan also shared the photo of himself and Sanjay Leela Bhansali and wrote 'Bais saal ho gaye hum dil de chuke sanam ko'. Please tell that the director of this film was Sanjay Leela Bhansali. Salman is looking very innocent in this photo. Fans write that in this film 'Literally Dil De Di Thee Bhai'. Fans are praising Salman fiercely for this film. More than 13 lakh people have liked this photo.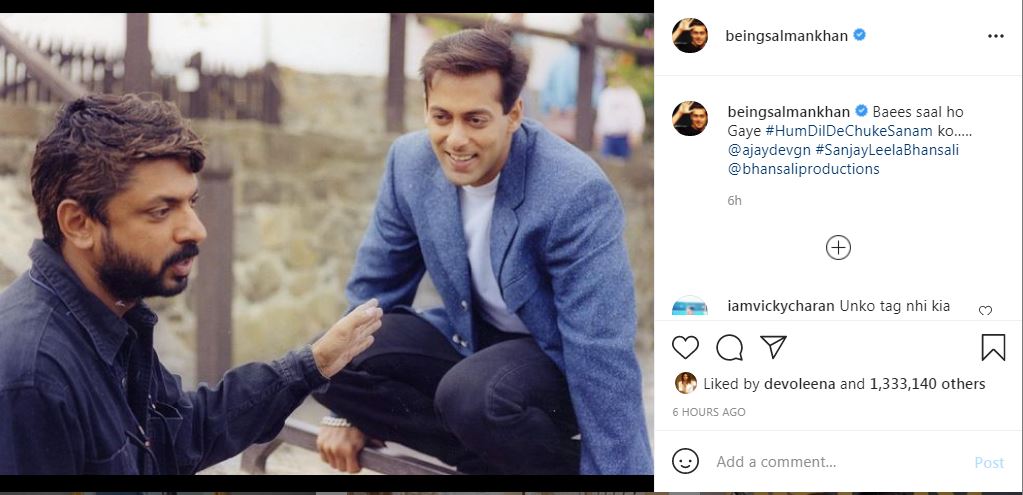 (Photo Credits: beingsalmankhan/Instagram)
At the same time, Ajay Devgan has also written on Instagram and Twitter, describing the film as a super sensitive film, that we did not know that this film would create history.
(Photo Credits: Ajay Devgn/Instagram)
Let us tell you that Salman Khan and Aishwarya Rai were seen together for the first time in the film 'Hum Dil De Chuke Sanam'.