Akshay Kumar has returned to the shoot of the film. (Photo Credits: Instagram/akshaykumar)
Akshay Kumar was found infected with Corona in April and lived in Quarantine according to the rules set. He has now returned to the sets of the film after recovering.
New Delhi: Akshay Kumar is known for performing dangerous stunts in his action films. He was away from shooting films for a long time due to Corona Pandemic, now following the protocol of Kovid-19 (COVID-19) has started shooting for his new film. The actor has talked about the shooting and the risks associated with it in a conversation with Hindustan Times.
On the question of returning to shooting in the epidemic, Akshay said, 'I agree that we are doing all this amidst fear. I am taking every step correctly and with care, everyone should do this. But I am very grateful for the amount of work that I have, which motivates me to work and I am ready to show my face again with a mask. We all have to start somewhere, but with utmost caution.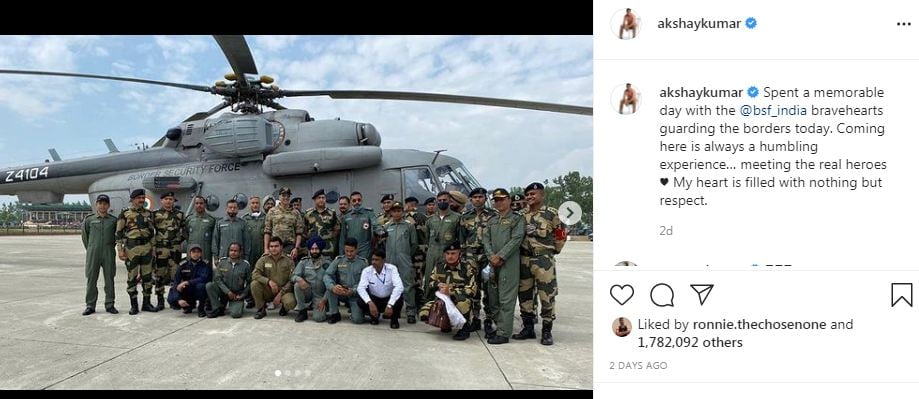 (Photo Credits: Instagram/akshaykumar)
He further says, 'My whole life has been full of risks in terms of health, I am saying this seriously. This pandemic has reminded many of us how short life can be. We should move with safety and then slowly chase our dreams again. Feel the fresh air outside in your lungs, bring happiness to your homes, improve your mental health. Will be a big part of our lives. Take small steps, but start moving forward. I just pray that everyone stays alert and I believe we can avoid this by taking precautions.' Talking about recovering from Corona, the actor said that I have done more now than I had rested after birth. Now is the time for me to improve my lifestyle.