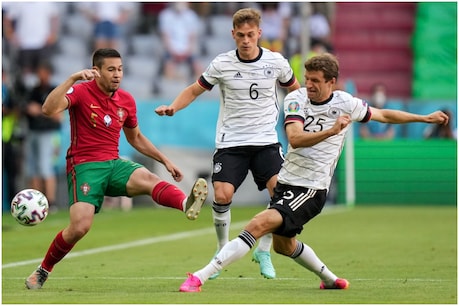 This is Germany's first win in two matches. (AP)
Defending champion Portugal got its first defeat in Euro 2020. Germany defeated Cristiano Ronaldo's team 4-2. This is Germany's first victory.
Munich. Defending champion Portugal's team got its first defeat in Euro 2020. Germany defeated Portugal 4-2. Portugal scored two own goals. Cristiano Ronaldo scored the first goal of the match, but he could not win the team. In Group F, France is on top with 4 points. Germany is second with 3 points and Portugal is third with 3 points. Portugal defeated Hungary 3-0 in the first match. Germany, on the other hand, lost 0-1 against France. In such a situation, the situation of the group has become interesting.
Cristiano Ronaldo scored in the 15th minute to give the team a 1-0 lead. Germany team made a comeback in the 35th minute. On assist from Gossens, the ball hit Dias's leg and scored a goal. With this goal, the German team leveled the score at 1-1. Joshua Kimikh hit a shot in the 39th minute. The ball went into the post after hitting Portugal's Rafael Guerrero and Germany got a 2-1 lead. Kai Havertz scored in the 51st minute and Robin Gosens scored in the 60th minute. Diego Jota scored in the 67th minute to make the score 2-4. But Germany's team managed to win in the end.
Hungary equalizes France
France avoided the biggest upset of the tournament with Antoine Griezmann's second-half goal, but were forced to share the points in a 1–1 draw against Hungary. Puskas Stadium, Budapest with a capacity of 67,215 spectators, is the only stadium at Euro 2020, where a full audience is allowed. Hungary took the lead in the injury time of the first half with Attila Fiola's goal, but Griezmann's equalizer in the 66th minute left the spectators disappointed. France's Kilian Mbappé and Karim Benzema missed a few scoring opportunities.