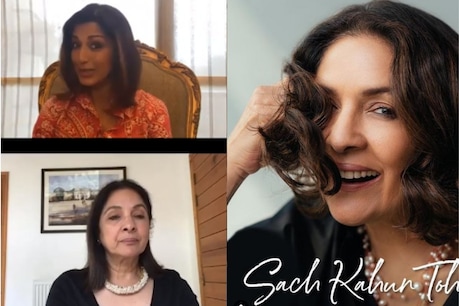 New disclosure of Neena Gupta. (Photo Credits: neena_gupta/Instagram)
While talking with Sonali Bendre, Neena Gupta finally revealed the secret as to why Masaba was raised alone. Single mother Nina, who turned down marriage offers from many people, explained the reason behind it.
Mumbai. actress Neena Gupta Talking to Sonali Bendre, revealed another secret of his life. Bollywood actress Sonali, seen after a long time, was talking about Neena's autobiography 'Sach Kahun Toh'. In the meantime, while talking, Neena told that her love was behind her decision to single-handedly raise her baby girl Masaba Gupta after rejecting the marriage offers of many people including Satish Kaushik.
When Neena Gupta fell in love with cricketer Vivian Richards and got pregnant without marriage. She took the bold decision to give birth to her child. Taking the bold decision of becoming an unmarried mother in the 80s was not easy. Many people proposed marriage in front of Nina and also offered to give their name to the child, but Nina did not like it and she refused to get married.
Telling Sonali Bendre about this, Neena Gupta said that 'I could not marry anyone just for money and name. I was proud of myself. When I was pregnant, Satish Kaushik offered to get married, then a friend of mine asked me to marry a gay man. I was told that the child will get the name, will get the money. Then I can do whatever I want. But I never wanted to marry anyone just for name and money. Vivian and I could not get married but I used to love him. Even though there were only a few meetings, but there was an emotional connection, so how could she marry someone else. Whatever time we spent together, that was a lot.
In this conversation, while praising Masaba, Neena said that she is an introvert since childhood. Doesn't say anything openly. Apart from this, Neena told that 'when work was not being available, she started feeling that there was something missing in me, confidence in myself was staggering'.