New Delhi: Selling is being seen in the worldwide cryptocurrency market today. Many are seeing declines including Ethereum, Binance, Cardano, Dogecoin, XRP and Polkadot. At the same time, there is light buying in Bitcoin, Tether and USD Coin. The global market cap of cryptocurrencies has come down to $ 1.44 trillion. In the last 24 hours, it has seen a decline of about 0.44 percent.
Apart from this, if we talk about the volume, then it has come down to $ 80.63 billion in the last 24 hours. It is seeing an increase of 15.59 percent as compared to the previous trading day. The volume of stable coins now stands at $64.06 billion, which is about 79.44 percent of the total crypto market.
Also read: This Rs 40 stock will give huge profit in a few days, know how to buy?
bitcoin dropBitcoin is currently trading at $35,500 on CoinDesk. There is a decline of 2.08 percent at this time. Its share in the cryptocurrency market is about 44.89 percent. During the last 24 hours, the maximum price of bitcoin cryptocurrency was $ 36,119.80 and the minimum price was $ 33,380.58. It has increased by 0.27 percent during the last 24 hours.
Ethereum also down
The price of Ether linked to the Ethereum blockchain has also declined by about 9 percent. At present, the rate on CoinDesk is trading at $2,179.74. During the last 24 hours, the maximum price of Ethereum cryptocurrency was $2,276.16 and the minimum price was $2,044.42.
Let us tell you that Goldman Sachs has started trading bitcoin futures with cryptocurrency merchant bank Galaxy Digital. Working with over 300 institutional investors worldwide. Goldman Sachs prepared the cryptocurrency desk only last month.
Also read: Now Vaishno Mata coin of 5 and 10 rupees will make you rich, you will get 10 lakh rupees, know how?
Let's check the rates of top-10 cryptocurrencies as of June 21, 2021-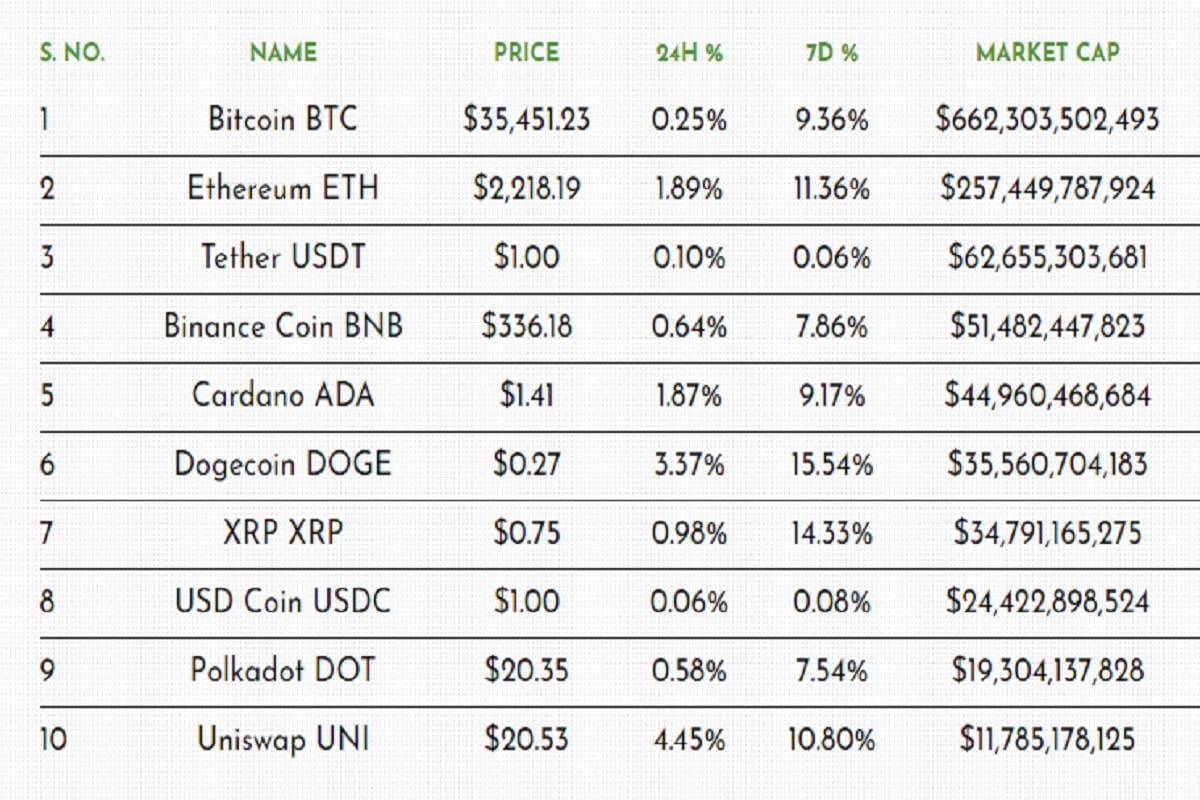 Cryptocurrency