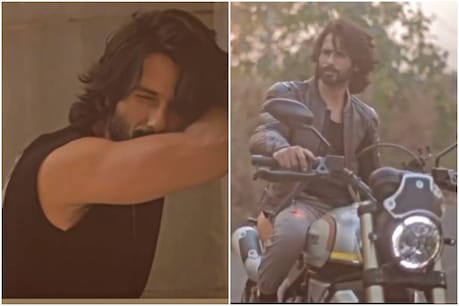 Shahid Kapoor's film 'Jersey' will be released in November this year. (Photo Credits: Instagram/shahidkapoor)
Shahid Kapoor has thanked the fans on the completion of 2 years of the film 'Kabir Singh'. He came live on Instagram and gave funny answers to all the questions of the fans.
New Delhi: The blockbuster film 'Kabir Singh' has completed 2 years of its release. On this occasion, the film's lead actor Shahid Kapoor came on Instagram to answer the questions of the fans. In the live session, the actor has shared many things related to the set of 'Kabir Singh' with the fans. He gave an update about his next film 'Jersey' and even told that he is looking forward to doing a dance film.
'Kabir Singh' is the most successful film of Shahid's career. On this occasion, the actor gave a message to the fans. He said, 'Thank you for making the most shattered and broken character my most successful film.' When the actor was asked about the most 'happy memories' of the sets, Shahid said that the funniest moment on the sets was when he and the cast had an ice fight. Recalling that day, the actor told that the shooting of Mussoorie was canceled then due to heavy snowfall. The actor says, 'We could not reach the shooting location and then the crew started fighting on the ice.'
The actor further said, 'Kiara was hiding in her hotel, because she did not want her look to be spoiled. When we came to know, we went to his room and spoiled his look. Fans also asked the actor what his wife Meera thinks about his role in the film. To this the actor said, 'She was very supportive. It was he who inspired me to play the role and be a part of the film. Shahid is currently awaiting the release of his film 'Jersey', which will release in November this year.