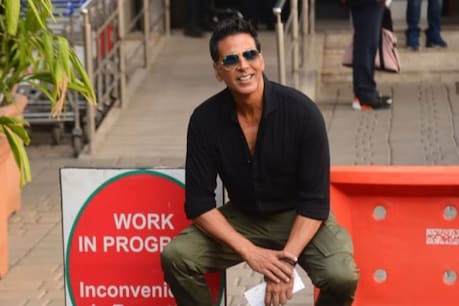 Akshay Kumar is active on social media. photo credit: viral bhayani
Bollywood actor Akshay Kumar himself revealed long ago why he does not go to Bollywood parties. He disclosed this in Kapil's show.
Mumbai: The fan following of Bollywood's 'Khiladi' ie actor Akshay Kumar is very strong. He remains very active on social media. He is going to be seen in many films one after the other. Akshay Kumar is such a superstar of Bollywood, who is known for signing many films in a year. Where on one hand many stars keep the policy of only one or two films in a year. On the other hand, Akshay is quite different from the rest in this and in many other respects as well. Recently, Akshay Kumar has told that he does not go to Bollywood parties, he has also given the reason behind it.
Actually, recently an old video of Akshay Kumar is going viral, in which he is seen on Kapil Sharma's comedy show. Apart from Akshay, actresses Kriti Kulhari, Taapsee Pannu and Sonakshi Sinha are seen in the video.
In the video, Kapil Sharma is seen saying, 'There is a rumor about you that you do not go to the party because then you will also have to give it to him. Is this a rumor or a truth?' Hearing this, Akshay Kumar immediately says- 'This is the truth'… On hearing this, all the people present on the set start laughing. Watch the video here-
This is not the first time, even before this Akshay Kumar has given the reason for not going to the parties. He once told on Karan Johar's show, 'I love my sleep very much and I love watching in the morning. Those who invite me to the party know that I will leave early because I have to sleep. And let me tell that I do not like night shift at all.
Talking about Akshay Kumar's work front, he will now be seen in films like 'Raksha Bandhan', 'Bachchan Pandey', 'Prithviraj' and 'Ram Setu'. At the same time, the release date of Akshay's film 'Bellbottom' has also been released. His most awaited film 'Bellbottom' will be released on July 27.