The shooting of the film 'Raksha Bandhan' was to start in April. (Photo Credits: Instagram/akshaykumar)
Akshay Kumar has started shooting for his next film 'Rakshabandhan'. The set of this film was completed in the month of April itself, for which Rs 8 crore was spent.
New Delhi: Akshay Kumar (Akshay Kumar) was to start shooting for Aanand L Rai's film 'Rakshabandhan' in the first week of April. However, around the same time the actor's corona report came positive, due to which he had to postpone the shooting of the film. When he recovered, a second lockdown was imposed. This further delayed the shooting of the film. Now Akshay has started shooting for his film.
Now that the restrictions have started to be lifted, the actors are giving utmost importance to the shooting of 'Raksha Bandhan' as the Rs 8 crore set, which was built for the April shoot, is still standing in the studio. Due to this, the filmmakers have to pay extra for the shoot in the monsoon season. The actor has started shooting for the film from June 21, which he has given information through his social media post. Along with the actor, his fans are very excited about the film.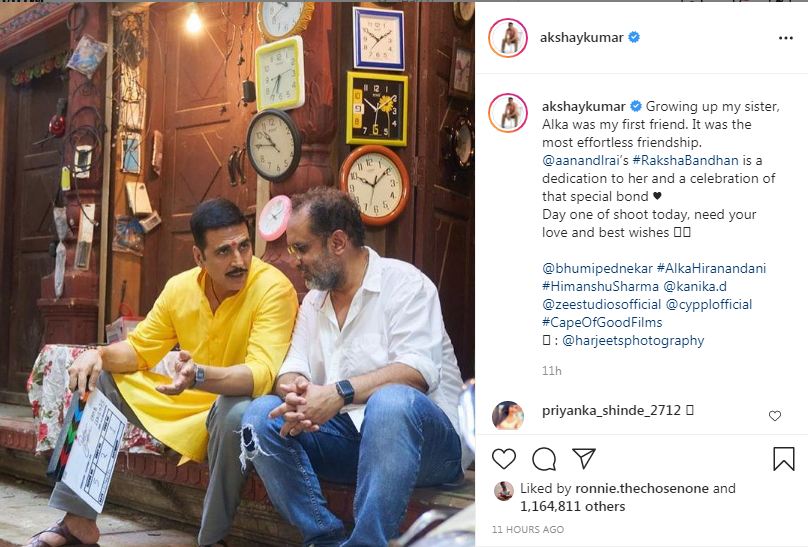 (Photo Credits: Instagram/akshaykumar)
A source told ETimes, "They have recreated the streets of Delhi. Some part of the film will be shot on the set itself. According to media reports, director Aanand L Rai had earlier revealed that he will be shooting the film in Bio-Bubble. Together, they wanted to ensure that the crew members were present at one place and the actors kept themselves in isolation once they went back home. He had planned to keep it till the shooting of the film was over. However, FWICE President BN Tiwari says, 'Mumbai has reached a better position now. In such a situation, there is no point in shooting in Bio-bubble. Now the filmmakers are shooting in normal conditions, following the guidelines of the government.