Nainital.
A murder case of Dehradun which had been the subject of discussion all over the country is once again standing at the door of the court. Her husband Rajesh Gulati, convicted in the Anupama Gulati murder case, has now presented an interim bail application in the High Court. On this, the High Court has asked the government to file an objection within ten days along with seeking a reply. Now the next hearing of the case has been fixed on July 7.
According to the information, Rajesh Gulati, convicted of murder, has demanded short term bail from the High Court on medical grounds. Rajesh Gulati has told the High Court that he is unwell and has sought bail for treatment.
love marriage and then murder
Rajesh Gulati is a software engineer by profession and lived in Dehradun with his wife and children. Anupama and Rajesh had a love marriage in 1999. But after marriage, there were many quarrels between the two. Although no one thought that Rajesh would kill his wife in this way.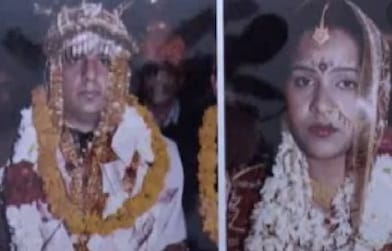 Wedding photo of Anupama Gulati and Rajesh.
dead body put in deep freezer
Rajesh Gulati had brutally murdered his wife Anupama Gulati on 17 October 2010. To hide his crime, he first cut the body into 72 pieces, after which put them in the deep freezer and started planning the hideout. Meanwhile, on December 12, 2010, when Anupama's brother reached Dehradun from Delhi, this massacre was revealed and everyone was shocked to see the dead body. In this case, the police registered a case, after which the charge sheet was filed in the Dehradun court, then the court sentenced Rajesh Gulati to life imprisonment on 1 September 2017 and the court also imposed a fine of Rs 15 lakh. In your order, the court had ordered to deposit 70 thousand in the state treasury and deposit the remaining amount in the bank till the child attains the age of majority. The court had considered the incident as a heinous crime.
Published by:Saurabh Sharma
First published: