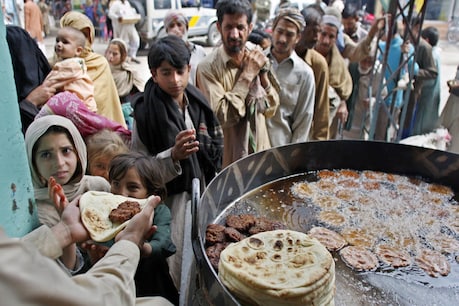 Pakistan
Poverty is increasing in Pakistan. 2 crore people have reached below poverty line. According to the World Bank, poverty was 78.4 percent in 2020-21 and it will reach 78.3 percent in 2021-22.
New Delhi: The situation in Pakistan is bad. The economy is deteriorating as well as poverty (poverty in Pakistan) is also increasing. The food and employment crisis in the country is also deepening. This has been revealed in the World Bank report. The World Bank believes that there are 40 percent of the households in Pakistan who are suffering from food shortage. People are having trouble getting food. The people who work here are getting hit the most.
The World Bank believes that poverty has increased in Pakistan from 4.4 percent to 5.4 percent in the year 2020. Here more than 20 lakh people have gone below the poverty line. Pakistan is currently going through a phase of poverty and to run the country, the Imran government has taken loans from many countries apart from the IMF. Now due to the pressure of IMF, Pakistan has started breaking the back of its own people.
Also read: 1 rupee note will make you rich, you will get full one lakh rupees, know how
disclosed in the reportThe News International report states that using the lower-middle-income poverty rate, the World Bank has estimated the poverty ratio in Pakistan to be 39.3 per cent in 2020-21 and 39.2 in 2021-22. Whereas in 2022-23 the same ratio could be 37.9.
Poverty can reach 78.3%
According to the World Bank, poverty was 78.4 percent in 2020-21 and it will reach 78.3 percent in 2021-22. In the year 2022-23, it may come down to 77.5 percent.
Also read: Cryptocurrency price today: Bitcoin has the biggest fall in two weeks, check at which price it is trading
worsening situation in corona crisis
The World Bank says that the situation in Pakistan has worsened due to the worldwide corona crisis. There has been a decrease in the income of the people working during this period. Apart from this, the biggest shortage of employment has been seen in the informal and working class. According to Pakistani media reports, the average per capita growth in the country every year is only two percent. This figure is less than half the average for South Asia.