Shilpa's advice to adopt positive thinking. (Photo Credits: theshilpashetty/Instagram)
Shilpa Shetty has spoken about emphasizing on positivity by sharing Aristotle Onassis' quote 'We should focus to see the light in difficult times of life'.
Mumbai: bollywood actress Shilpa Shetty Even at the age of 46, he is maintaining his fitness. Shilpa is very active in keeping her body and mind healthy. On International Yoga Day also, he told remedies for a healthy body. Recently, information was given about Pranayama and Bhramari for people troubled by breathing problems. Apart from this, Shilpa often shares videos and photos of yoga and exercise on Instagram. These days she is the judge of the dancing reality show 'Super Dancer Chapter 4'. During the show, photos of Shilpa's fitness often go viral. Now Shilpa has told the way to keep the mind healthy.
Shilpa Shetty has shared a photo on Instagram, sharing a coat of Aristotle Onassis with one of her photos. Shilpa's beautiful and toned body is seen in this photo. With this photo, Shilpa has written in the caption, 'One thing I have learned from the ups and downs of my life is that we should maintain positivity every day. This is true especially when you are at the bottom of your life.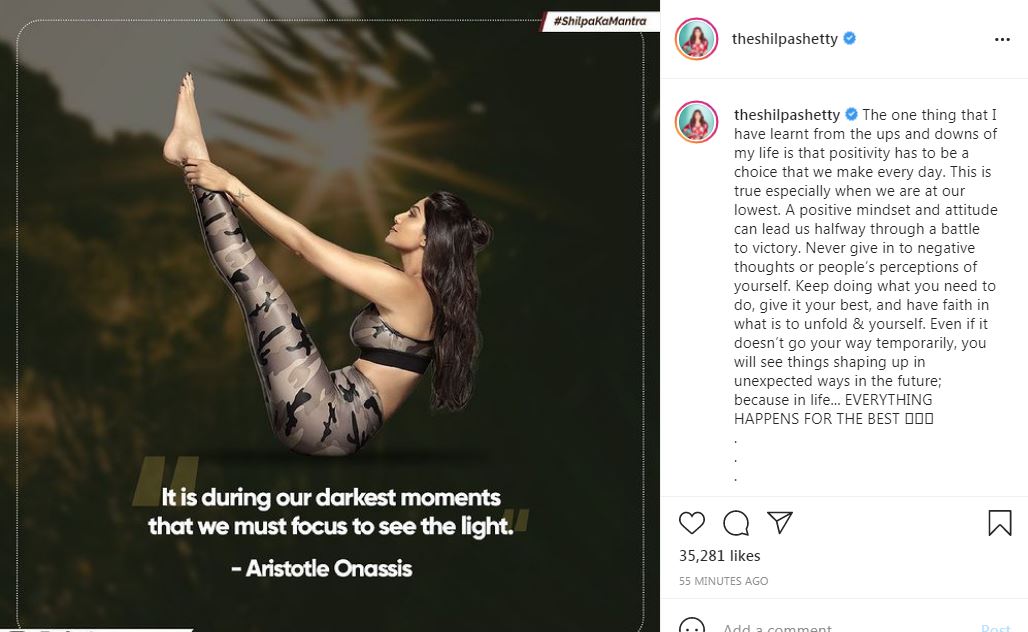 (Photo Credits: theshilpashetty/Instagram)
Shilpa further says that 'A positive mind and attitude gives half the victory in the battle of life. Never let negative thoughts and things of such people dominate you. Keep doing what you want to do, and think about giving your best, believe in yourself. These are all temporary things, if we get rid of them, then your future will be seen taking a new shape, because everything in life happens only for good'. On this post of Shilpa, the fans have agreed by sharing the heart emoji. Shilpa, who made her Bollywood debut with the superhit film 'Baazigar' with Shah Rukh Khan and Kajol, has come a long way. Recently, she was in a lot of discussion about her personal life. Talking about Shilpa Shetty's work front, she is soon making a comeback on the big screen with the films 'Hungama 2' and 'Nikamma'.