Woman entered the field during the match (PC: twitter)
During the match, the woman narrowly survived due to injury. She had gone deep inside. The security personnel caught him and pulled him out
New Delhi. During the match played between Belgium and Finland in Euro 2020, a woman entered the field and took off her clothes to promote cryptocurrency. During the match, the woman came running on the field. She took off her jacket and on her T-shirt it was written that WTF coin. She had come up to half the field in this group stage match. Because of which he was also at risk of injury. But the security personnel caught the woman.
The woman's T-shirt also had a link to the website. Belgium won this match played between Belgium and Finland 2-0 in Russia. Another fan had infiltrated in another match played between Russia and Denmark. However, he was quickly caught by the security personnel.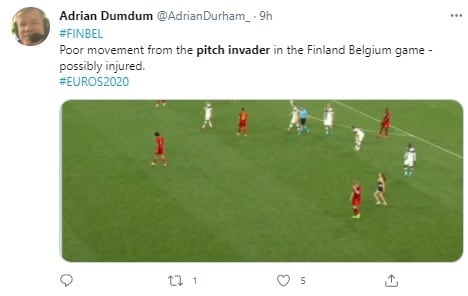 Read also:
Badminton star Saina Nehwal visits Taj Mahal with husband P Kashyap, see photos
Jeev became emotional after remembering father Milkha Singh, said- lifelong passion is needed to deal with this pain
Belgium scored a hat-trick of victory. They are the third team after Italy and Netherlands to win three consecutive matches in the group stage. Finland, playing for the first time in a major tournament, finished third. Whereas Russia got 4. Denmark also entered the next round after defeating 1. Romelu Lukaku scored the second goal for Belgium in the 81st minute, which is his third goal of the tournament. The first goal was scored by Finland's goalkeeper Lukas Radeki.