New Delhi.
Bollywood veteran actor
Dilip Kumar
He was admitted to Hinduja Hospital in Mumbai for the second time within a month on Tuesday. Dilip Kumar has been admitted to the hospital due to difficulty in breathing. On Tuesday, when he was having such problems continuously, the family members admitted him to the hospital. According to media reports, now his health is stable. At the same time, Faisal Farooqui, friend of Dilip Kumar, said in a tweet from the actor's Twitter account, "Dilip saab has been admitted to Hinduja Hospital, Khar due to a medical issue, which is often expected to happen at the age of 98. Your love and prayers are really appreciated by Saab.' It also appears from this tweet of Farooq that now Dilip Kumar is already fine.
According to hospital sources, the 98-year-old actor was admitted to Hinduja Hospital in suburban Khar yesterday and is now in good health. This hospital is not a Kovid-19 centre. A source close to the hospital told PTI-Bhasha, "He was admitted to the hospital yesterday afternoon after he complained of breathlessness. Considering his age and recent hospitalization, the family decided to bring him to the hospital as a precautionary measure. He is fine. He is admitted in the Intensive Care Department (ICU) so that doctors can monitor his health."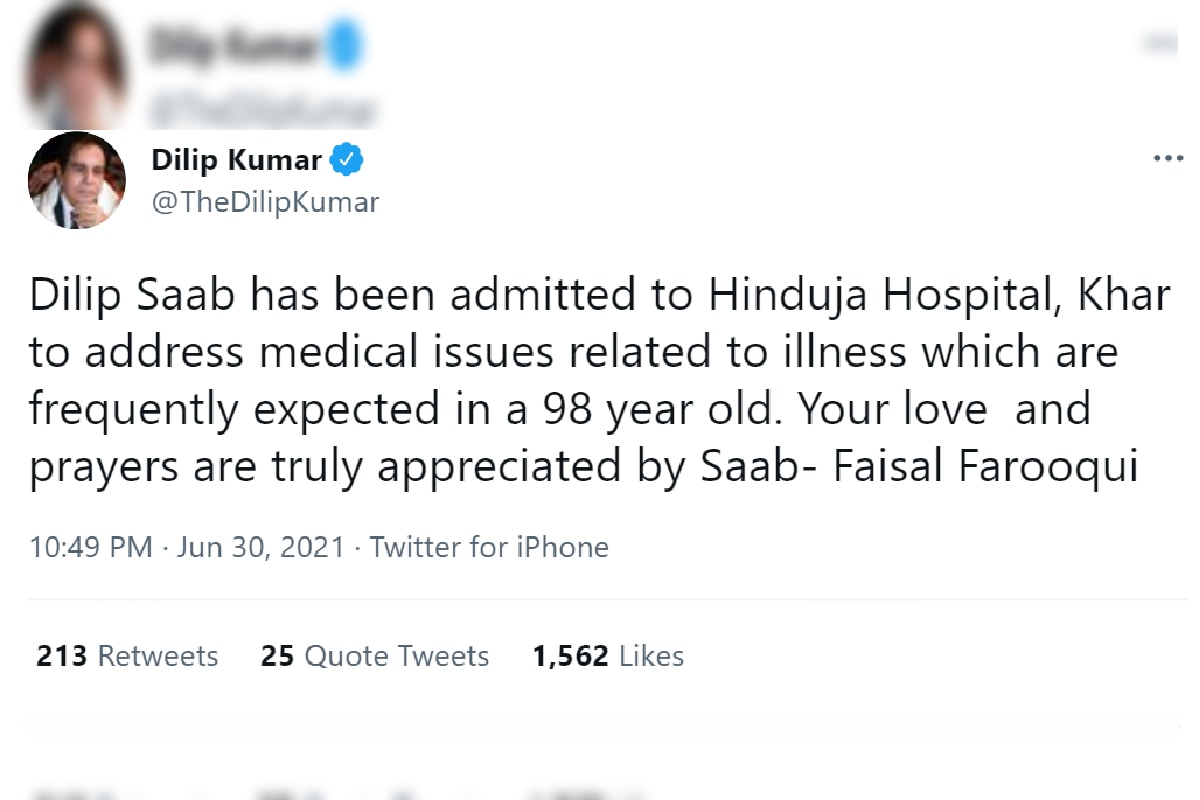 Twitter Printshot
Dilip Kumar was admitted to the same hospital on June 6 due to shortness of breath. At that point, fluid collected outside his lungs, which was successfully removed by the doctors, and five days later he was discharged from the hospital. Let us tell you, about the health of Dilip Kumar, his wife and Bollywood actress Saira Banu keeps updating the fans. Earlier, when the actor was admitted to the hospital and discharged, it was also informed by Saira Banu.