Mumbai:
hero of the century
Amitabh Bachchan
Also fond of Harley Davidson. Amitabh keeps sharing photos from the time of shooting of his new and old films on social media. Amitabh Bachchan has shared a throwback photo of himself on Instagram. Many celebs including Karthik Aryan have liked this photo. At the same time, his granddaughter Navya liked Nana's style very much.
The photos shared by Amitabh Bachchan on Instagram. Anyone seeing him would call him cool. Wearing a black leather jacket and wearing blue colored glasses on his eyes, Amitabh Bachchan is looking very smart. This photo of Amitabh has been taken while riding Harley Davidson. Sharing this photo, Amitabh wrote in the caption 'Riding a Harley is a different world in itself'. Shweta Bachchan's daughter and her granddaughter Navya Naveli wrote 'Coolest' on this photo of Amitabh. So far more than four and a half lakh likes have been received on this photo.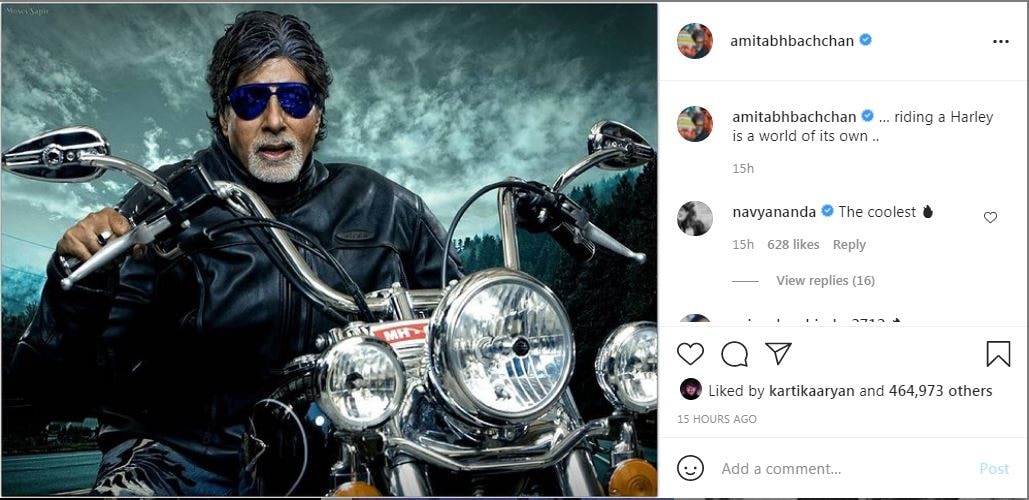 (Photo Credits: amitabhbachchan/Instagram)
Let us tell you that the photo shared by Amitabh Bachchan is the poster of the film 'Buddha Hoga Tera Baap'. This film came in the year 2011. Hema Malini and Sonu Sood were also with Amitabh Bachchan in this film.
Earlier, Amitabh Bachchan shared a photo with Doggy from the sets of his upcoming film 'Goodboy'. Neena Gupta is also going to be seen in this film along with Amitabh. The shooting of this film was stopped due to Corona epidemic but now it has started again. Amitabh is working continuously in films one after the other. Apart from the film Goodboy, Amitabh Bachchan is working in 'Brahmastra'. At the same time, his film 'Chehre' with Emraan Hashmi and Rhea Chakraborty is also ready for release.