Mumbai.
These days, Kamal Rashid Khan is messing with all the Bollywood stars one by one. Singer after messing with Salman Khan
Mika Singh
surrounded him on social media, after which he made a tweet taking the name of Govinda, although after this he also clarified. Now Kamal Khan has surrounded Ranbir Kapoor. KRK has raised questions about Ranbir's character.
KRK Wrote in his tweet, 'Nowadays Ranbir Kapoor is on the target of Didi Kangana Ranaut. Kangana is revealing Ranbir Kapoor's pole in gestures and is telling the world, how big is Ranbir Kapoor. I will say this to Ranbir, why do you try Bhai Saheb everywhere. Take control somewhere, my brother. This tweet has been done on 29 June 2021.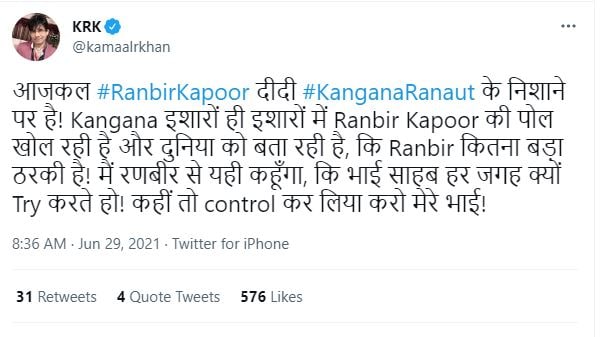 KRK has raised questions about Ranbir's character. photo credit: TWITTER
Let us tell you that a few days ago, Kamal Khan made fun of Shahrukh Khan by tweeting about his age. KRK had tweeted that Shah Rukh Khan, like other actors, is making a mistake that he does not want to grow old even at the age of 56. He just wants to play Bholu Cute Boy, which people will not be able to digest. Bollywood actors have a phobia that they should play young boys to get young actresses in the film.
Earlier, while targeting Bollywood queen Kangana Ranaut, KRK said that she is going to give the 12th flop film of her life. He had already called his upcoming movie a flop by tweeting against the actress.