Mumbai.
actor
Naseeruddin Shah
He has been admitted to Hinduja Hospital in Khar, Mumbai due to pneumonia. The actor was admitted here on June 29. Naseeruddin's manager told that during the investigation, the doctors found a patch in his lungs, after which they asked the actor to be admitted to the hospital immediately. His wife Ratna Pathak Shah and children are with him in the hospital. Now Ratna has given the health update of Naseeruddin Shah.
Talking to Pinkvilla, Ratna said, 'She is fine now. He has a small patch on his lung, which is undergoing treatment. Hopefully they should be discharged by tomorrow. It is pneumonia, but luckily it is very small and in a small corner, so hopefully it will be cured soon.' At the same time, Mohammad Ali Shah, nephew of Naseeruddin Shah, told Pinkvilla that my father had spoken to him on the phone. He is alright. It is pneumonia, but it is nothing to worry about.
After Naseeruddin's hospitalization, fans and celebs are praying for his good health. Anupam Kher are also included. Anupam tweeted, 'Janaab Naseeruddin Shah Sahab!! Kicking pneumonia is seeking importance, so it has been with you for a couple of days. Give it a quick shake and get it right. Looking forward to working with you since a long time. Take care of yourself Prayers and prayers for your good health.'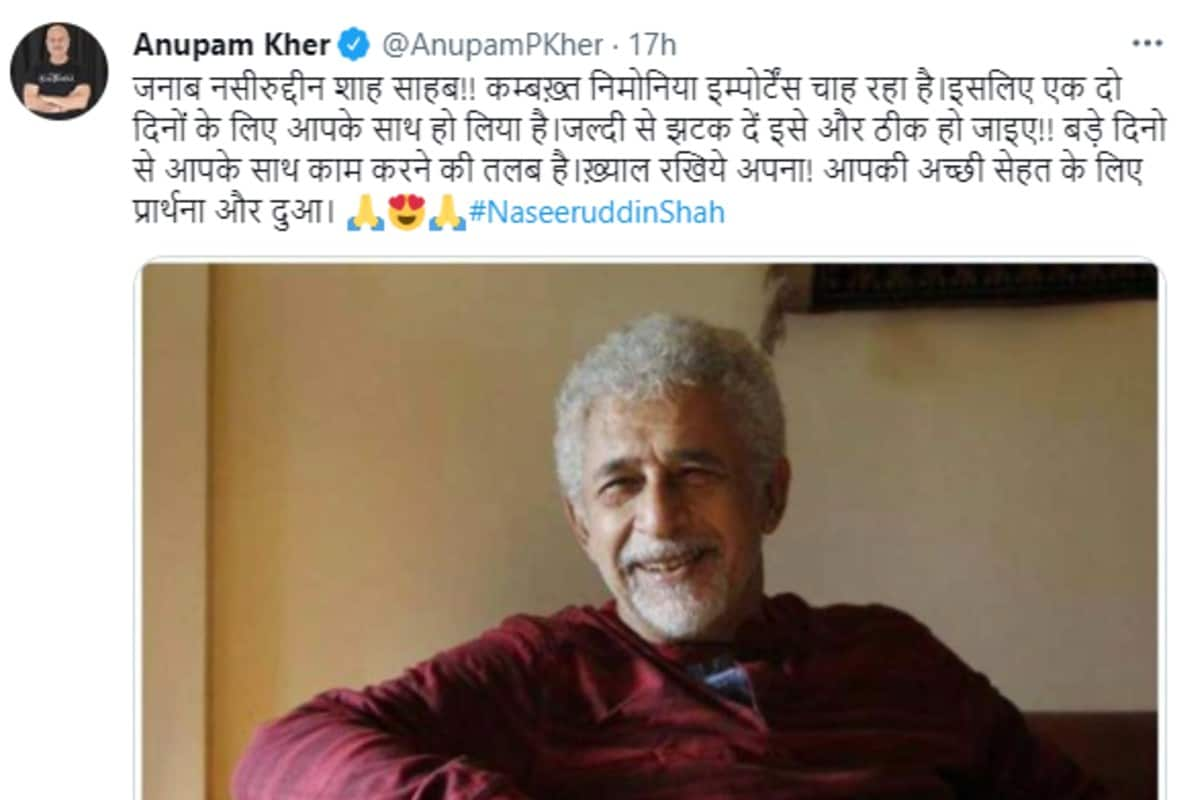 Photo Credit: Twitter
Talking about the workfront, Naseeruddin Shah will also play an important role in Tusshar Kapoor's next film 'Maarrich'. Tusshar will be seen in the lead role in this film. The film will be directed by Dhruv Lather. Tusshar told about the film through Twitter.