(Dr. Rameshwar Dayal)
Delhi Adarsh ​​Bhojnalaya Eat Plenty In Budget- Sometimes we feel like going to a restaurant where we can get enough food in the prescribed amount. Meaning, keep eating as much as you want. If you want to eat fried roti in ghee with vegetables, then keep eating and if you want to eat only lentils and rice, then keep on handling it unabated. If there is chutney and raita along with it, then the matter is unique. So let us tell you that there is such an eatery in Delhi where you can eat food full of stomach and heart in just Rs 180. Vegetarian food is very tasty. The food of this restaurant varies according to the season.
Food is served in plates and bowls
The name of this restaurant is Adarsh ​​Restaurant. When you walk on Chandni Chowk Main Road, the road leads to Haveli Hyderkuli on the left side beyond Ballimaran. At the same time, there is this air-conditioned vegetarian restaurant, where a lot of food is available in a plate of only Rs 180. Reach the counter, sit down with a 'coupon' (earlier a brass token) emanated from the computer. A big plate will come in front of you, in which two bowls will contain two vegetables (one with cheese), one bowl will contain lentils, one will contain raita. Apart from this, in addition to salad, papad, green chutney, pickle, a bowl will contain confectionary in which Rasgulla, Rasmalai, one of the food custard will be there.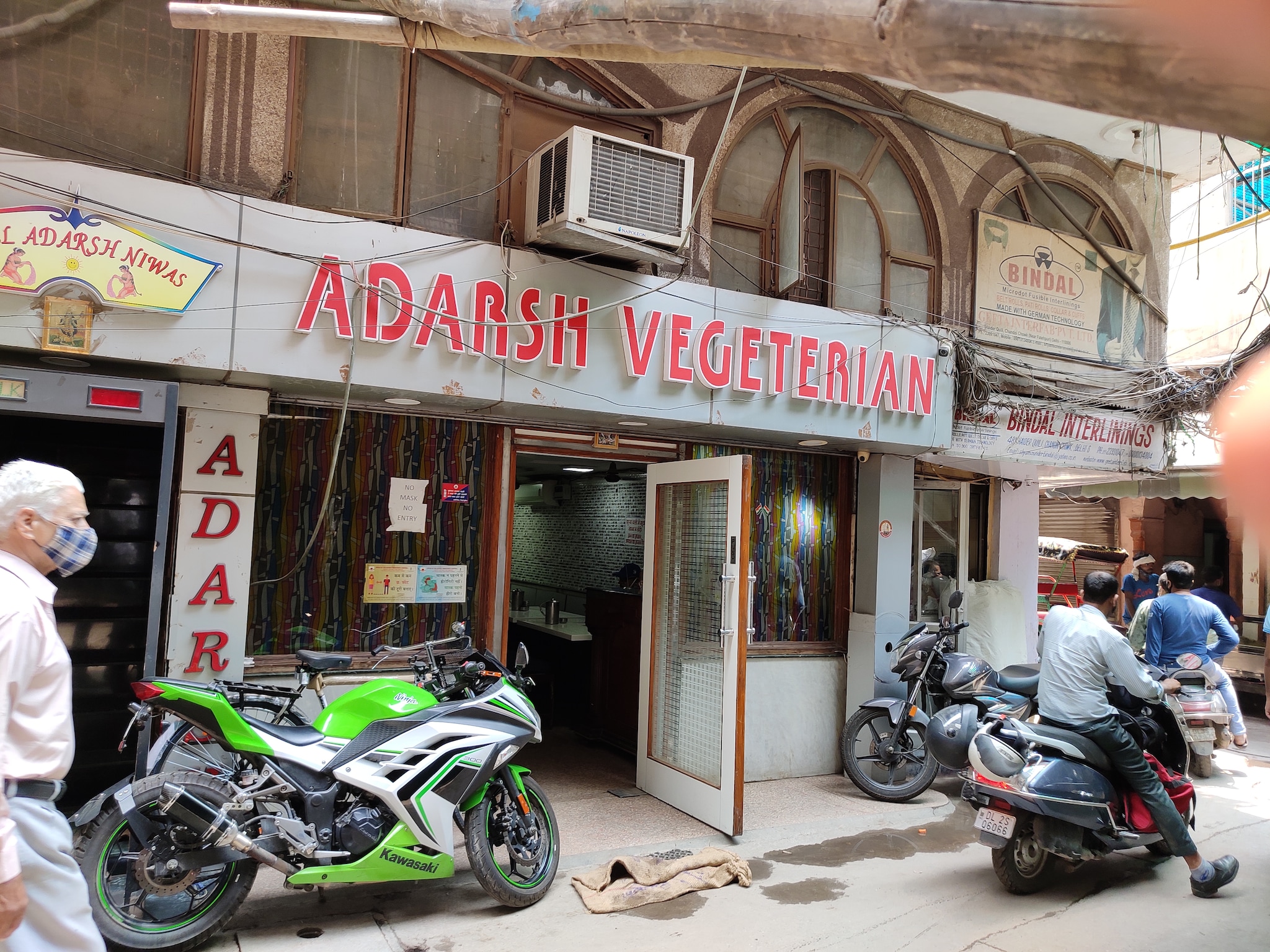 When the restaurant was started, the price of the plate was Rs 13 at that time.
Tava's hot roti and stuffed parathas
As soon as you start eating, you will keep getting stuffed parathas apart from sizzling gram and wheat roti on a hot pan. The food which is lacking while eating, you will demand, it will be served on the plate immediately. You will also get hot rice along with it. Now for as long and how much food you keep eating, the staff will keep serving you. Vegetables, pulses etc. will continue to come in two or four khan ki dolchis and whatever is needed will be served immediately.
Also read: The first shop of Lemon divided in Delhi, hugging before independence
Not profit, priority to people's satisfaction
This restaurant is pure vegetarian in the true sense, as onion and garlic are not used in the food. If any vegetable runs out when the crowd increases, then a new vegetable is served immediately. The owners say that their restaurant is not for profit, it is for people's satisfaction. Earlier this restaurant also had a coupon system for the month at discounted prices. Businessmen used to come with coupons, after eating food, they used to return satisfied.
Thali packing facility will also start soon
Now let's talk about the owners of this restaurant. It was started by Ramdev Sharma in the year 1988. He is a resident of Old Delhi only. His son Milan Sharma is helping in running this restaurant. He told that with the changing times, now we are also going to start the facility of plate packing. He informed that when this restaurant was started, at that time the price of the plate was Rs 13. All the raw material for making food is bought from Khari Baoli Wholesale Market. He also said that the menu of the restaurant also changes according to the season, but the purity remains. The restaurant opens at 11 o'clock in the day and runs till 11 o'clock in the night.
Nearest Metro Station: Chandni Chowk