Dehradun.
The dreadful face of the corona epidemic that took thousands of lives in the last few months was that thousands of children lost both their parents. On the one hand, the number of children being orphaned has increased across the country, and on the other hand the crimes against children also increase. At such a time some rays of relief also appeared. One such hope is seen in the form of a social activist from Dehradun, who has announced the adoption of 100 children who have been orphaned during the pandemic. According to this announcement, the beginning has also been started.
Jai Sharma, who runs an NGO named JOY (Just Open Yourself) in the capital of Uttarakhand, has talked about adopting 100 orphan children and has adopted 20. In the Facebook post of his NGO, Sharma wrote, 'In the first two weeks of the second wave of Kovid, we came across 5 cases of families where both the parents of the children were victims of the period … From this whole situation we thought that this The unfortunate situation will be worse and we will have to do something for it.
read this also : Was the farewell of Tirath decided, what was the meaning of meeting Shah-Nadda? Will CM change in Uttarakhand?
50 children will be adopted this week
Sharma further wrote that he is handling the diet, medicines and financial needs of 20 such children so far. Out of these 20, two children are from Dehradun and the rest from other hilly areas of the state. Sharma expressed hope that in the next one week, he will achieve the target of adopting 50 children and after that 100 children in a row. All kinds of support will be given to these children till they become self-reliant. According to the FB post, Sharma's NGO had done the work of providing essential things as help during the epidemic.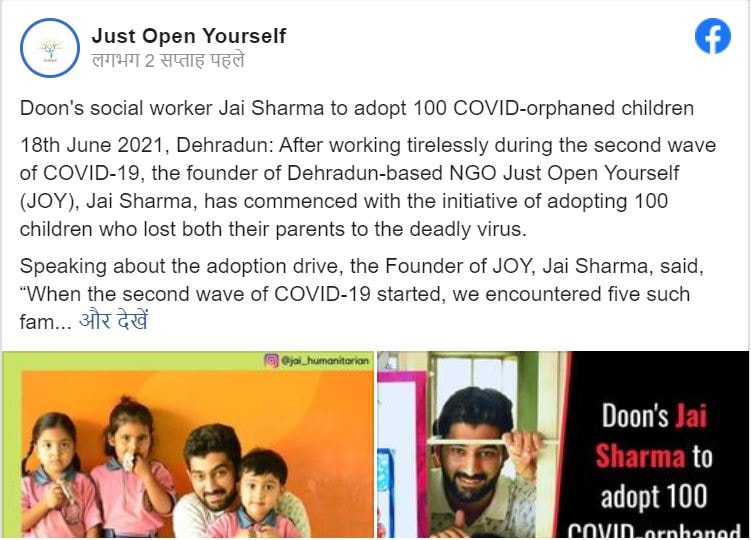 Post written on NGO's Facebook page.
Significantly, in a survey of DCPCR in Delhi, it was told that since March 2020, due to the outbreak of the epidemic, more than 2000 children were orphaned, out of which 67 lost both their parents. According to this survey, 1311 children lost their father and 651 lost their mother.