New Delhi:
No one can deny that Akshay Kumar has maintained his tremendous fitness throughout his career. However, now he has given himself a little leeway. Akshay has gained weight to play the role of a Delhi guy in Aanand L Rai's Raksha Bandhan. Some photos of the actor have surfaced on social media, in which his increased weight is visible. Interestingly, Akshay had to lose six kilos to play the role of a policeman in 'Sooryavanshi'.
The actor has no problem in increasing or decreasing his weight for any role. He has increased his weight by 5 kg for 'Raksha Bandhan'. According to media reports, the actor had said in a conversation, 'I really enjoy the process of losing weight or gaining weight for a role, because I know how to do it in a healthy way. I have gained 5 kgs naturally. It also gave me the pleasure of eating pudding made by my mother's hand. I'm lucky!'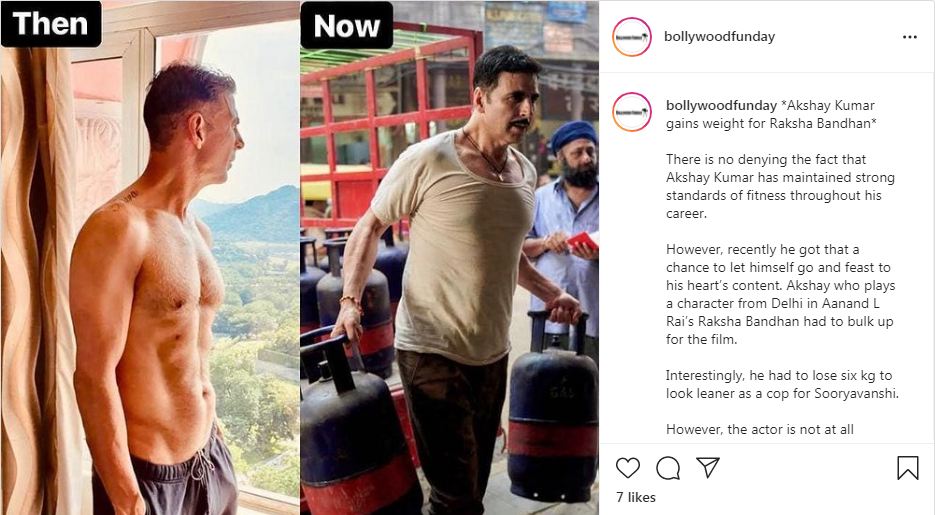 (Photo courtesy: Instagram / bollywoodfunday)
Also read: 'The Family Man 2' fame Ashlesha Thakur received many marriage offers, the actress is only 17 years old
Talking about work, Akshay Kumar is shooting for 'Raksha Bandhan' in Mumbai these days. He will be seen sharing screen space with five new faces who play his sisters in the film. In this film, Bhumi Pednekar is in the lead role with Akshay. According to media reports, there is a plan to release this film next year. At present, many of Akshay's films are standing in the queue for release. The fans of the actor are also eagerly waiting for the release of his films.