(Dr. Rameshwar Dayal)
Bhelpuri of Mumbai (Bombay) is famous all over the country and the world. This dish is not only wonderful to eat, but it also keeps the stomach light. Today we take you to such a shop, where you will get the original taste of Bhelpuri and Sevpuri of Mumbai. Now even the Golgappa chaat of his shop is burning. The specialty of this shop is that you will also find about 250 types of salty and desi biscuits there. So go to that shop, eat bhelpuri and pack it for the family and take it home.
Know what is in Bhelpuri
This shop is very old, where we are walking for you. A gentleman from Gujarat came to Delhi and he started tasting the taste of Bhelpuri, Sevpuri and Gujarati Namkeen to the people of Delhi that people still admire him. Let's talk about Bhelpuri first. Bhelpuri is offered for Rs 50 at this shop named 'Bombay Bhel House' in Kamla Nagar D Block. In this, special spices are added in addition to puffed rice, salted samviyan, peanut chidwa, papdi, boiled potato, chopped onion, green chopped coriander, raw mango, three types of chutney sour, sweet and garlic. So tell me, why doesn't the mouth water after seeing this and why doesn't the appetite increase? If you want to eat more spicy bhelpuri, then take some spices and sour chutney and put it, it will start to feel like pleasure. This sour and sweet dish tempts people's tongue, as it contains the same items that are put in Bhelpuri found in the city of Mumbai.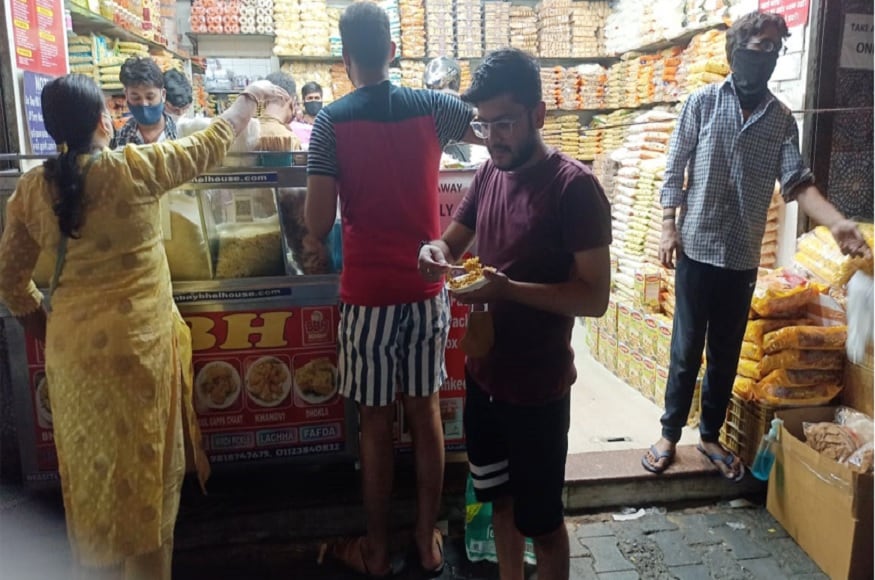 Namkeen is so flavored that the eyes are blind
In this way, a plate of sevupari can also be eaten there. Its rate is 60 rupees a kg. The special thing is that a packet of 80 rupees each of Bhelpuri and Sevpuri is also available. Everything is present in it. Three people can be satisfied by eating a packet. Both these dishes are the specialty of this shop as well as the snacks sold there will also fascinate you. Here you will find about 250 types of salty and desi biscuits. The shopkeeper claims that this item of such variety will not be found in any shop in Delhi. Most of the namkeens are from Gujarati flavored. Eyes can be blind seeing them. Nowadays the golgappa chaat of this shop is also earning a name. This chaat is also special. For Rs 50, five golgappas are filled with namkeen, chutney, potatoes, onions and handed over to the customer. People eat this dry golgappa chaat of flour or maida with a chutney.
Thakkar sahib, who came from Gujarat, opened a shop.
The people who open this shop are residents of Gujarat. Dwarka Das Thakkar (Babu Bhai) started this shop in the year 1975. Initially he sold Bhelpuri and Dhokla. People accepted this dish with great surprise at that time. The responsibility of the shop was later taken over by his son Rajesh Thakkar. Today he is running this shop with his son Sagar Thakkar. They say that Grandfather had started increasing the variety of Namkeen in the olden times and we are increasing its variety even today. He visits Gujarat and Mumbai every six months and brings tips from there, then implements them at the shop. The shop starts at 9 am and remains open till 10 pm.