New Delhi.
Lionel Messi has waited 28 years for Argentina to win the Copa America (Copa America 2021). This is Messi's first international title for Argentina. After this victory, Indian fans also got a connection with Sachin Tendulkar and MS Dhoni. With the victory of Argentina, the memories of Indian fans were also refreshed, when India won the ODI World Cup in 2011, ending 28 years of wait under MS Dhoni's captaincy.
India had won the World Cup for the first time in 1983 under the leadership of Kapil Dev. Argentina won the last international title in 1993 and that was the Copa America.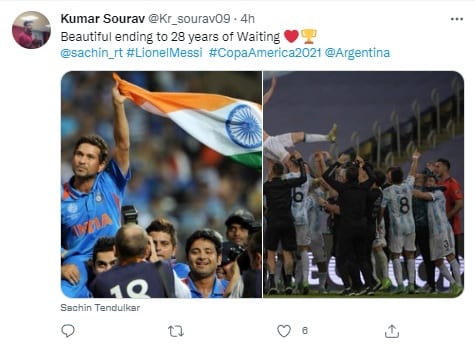 The 2011 ODI World Cup was the last World Cup of great cricketer Sachin Tendulkar and it is believed that this may be the last Copa America tournament for the 34-year-old Messi. Where the drought of 28 years of both the countries ended.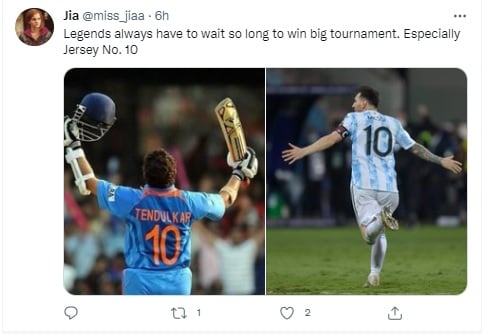 At the same time, the fans found another similarity between Messi and Tendulkar and that is their favorite jersey number 10. It took 16 years for Messi to win his first international title. At the same time, it took 23 years for Sachin Tendulkar to win the first World Cup.
Read also:
Copa America: Lost 3 consecutive big finals, retired disappointed… now Lionel Messi has created history
Son was celebrating Argentina's victory, Brazilian fan father ran to kill him by lifting the chair, watch video
Argentina defeated Brazil 1-0 in the title match. Angel Di Maria scored the only goal in the final and this goal also fulfilled Messi's dream. In addition to scoring four goals, Messi helped the team's players to score five goals. Under Messi's captaincy, Argentina had to face defeat in three consecutive finals 2014 FIFA World Cup, 2015 and 2016 Copa America. Disappointed by this, this player had retired in 2016, but returned after persuading the President and now ended Argentina's 28-year wait.