(Dr. Rameshwar Dayal)
In this hot and humid era, we offer you a taste of cold and cold ice cream. Its specialty is that it is made from desi style and no powder or essence is used in it. Made in five hours, wrapped in cream and dry fruits, when this ice cream is offered to the people, then along with the body, the coolness reaches the soul. If you want, eat this ice cream in a cup or enjoy it by offering it over a softie cone. The taste is such that even the tongue will say 'Wah Bhai Wah' in the pitch.
This ice cream is ready in about five hours.
In the Daryaganj area of ​​New Delhi, the road that leads to Dayanand Road in front of Golcha Cinema, while going inside, this old shop of Giani Fruit Ice Cream is present in the Fruit Market. Since the heat and humidity is getting lighter, so first let's talk about this fruit ice cream. This fruit ice cream starts making in the godown at around 6 in the morning. The shopkeeper says that it is prepared indigenously. It takes about 5 hours to make it. In the special machine, dry fruits are mixed in addition to milk, cream. Its taste, color and lightness emerge after continuous rotation on the machine. Since this is a desi fruit ice cream, no essence or powder is added to it. While serving, red-red cherry powder is sprinkled on this ice cream. Then the taste that will come, it will surely please the body and mind.
The whole ice cream is the goods
Cherry powder is also prepared in the godown. It is offered by filling it in a softie cone or cup for just 30 rupees. Its taste is so tremendous that people who want fruit ice cream do not feel satisfied with one. If you want to take such great ice cream even for home, then there is a family pack for Rs 130. Along with this, five softy cones are also given. The whole ice cream is full of goods. Snow has no 'place' in it. Since the area of ​​Darya Ganj is busy, people working in the area in the morning are seen enjoying fruit ice cream at this shop. Before the Corona period, when many schools and education centers were opened in the area, students used to come and taste it loosely. Apart from the surrounding residential areas from evening till night, people from far and wide also come to enjoy this desi fruit ice cream.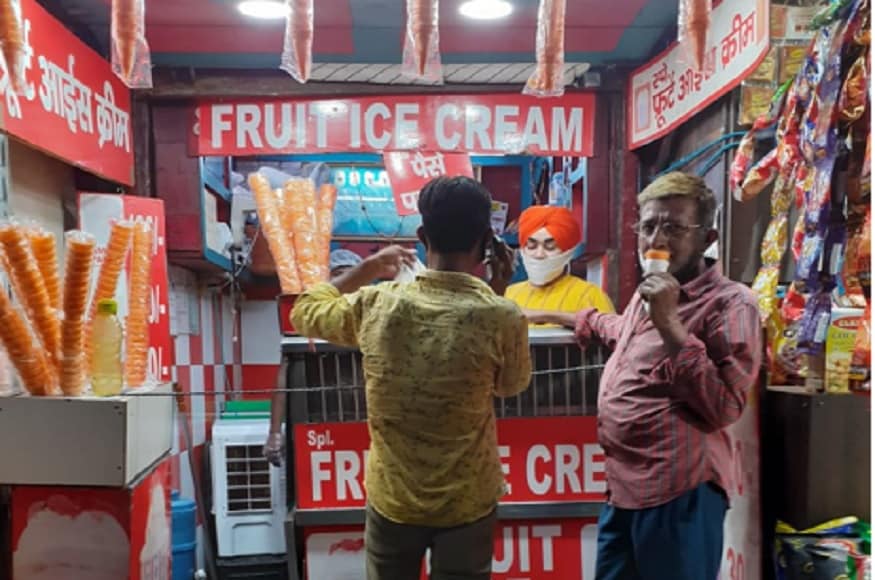 This special ice cream started selling on the street in the year 1972.
Now talking about the 'makers' of this ice cream, let us first make it clear that this shop has no relation with the Fatehpuri-based Giani Faloude Wale. Amarjeet Singh started selling this ice cream in the year 1972 by putting a street vendor on this road. For about 16 years now, his son Paramjit Singh is selling this ice cream in the fruit market of Darya Ganj. Now his son Manmeet Singh also helps in this work. From 11.30 in the morning to 10 in the night, the ice cream remains in this shop. The last Sunday of the month is a holiday at the shop. There is also a branch of Giani Fruit Ice Cream in Rishabh Vihar Main Market located across the Yamuna, where Paramjeet's younger brother Virendrapal Singh is giving people a taste of fruit ice cream. Apart from this, Rabri Falooda and Kulfi Falooda are also offered there for 50 rupees. There is no holiday on this branch.