(Dr. Rameshwar Dayal)
You must have eaten ice cream laden with dry fruits and also enjoyed kulfi filled with the flavor of different fruits, but have you ever tried the 'Liquid Salad' of fruit cream. The shopkeeper has named it 'Special Fruit Cream'. But while eating it, its fans also get a feeling like 'liquid chaat' with cream rich in fruits. This is a different type of dish which is also prepared in a special way and is also presented in a different way.
Full glass gives a feeling of water
From the intersection of the ITO in New Delhi to the Police Headquarters, a small road enters between the Income Tax Office and the DMA building, across both the roads, where there are many catering shops and shops. Amidst all this, on the right side there is a small shop named 'Special Fruit Cream-Saffron containing Pistachio'. This is where you get a glass full of aromatic and cool-cool fruits and cream, which gives a feeling of completeness. Some people eat it as a salad filled with fruit cream, while some believe that it is a chaat filled with cream and fruits. First we tell how this special dish is made.
Also read: If you want to eat pakodas, then come to Sarojini Nagar, Delhi, 15 types of varieties are present.
Cream drenched with fruit pieces makes a different taste
Firstly, different types of fruits like banana, apple, papaya and nowadays mangoes are also cut into small pieces in summer. This fruit mixture is taken out in a small bucket and a lot of fresh cream is mixed in it. This bucket is kept in the middle of a big bucket full of ice. This fruit-filled cream becomes thick due to the strong coolness of the ice all around and its taste also emerges in a different way. After filling this colorful cream filled with fruits in a plastic glass, pieces of cherry are put on top. For the convenience of the customers, this glass is presented by putting a napkin on top and putting a plastic spoon inside. This chilled cream filled with fruit pieces presents a different color and taste when it goes in the mouth.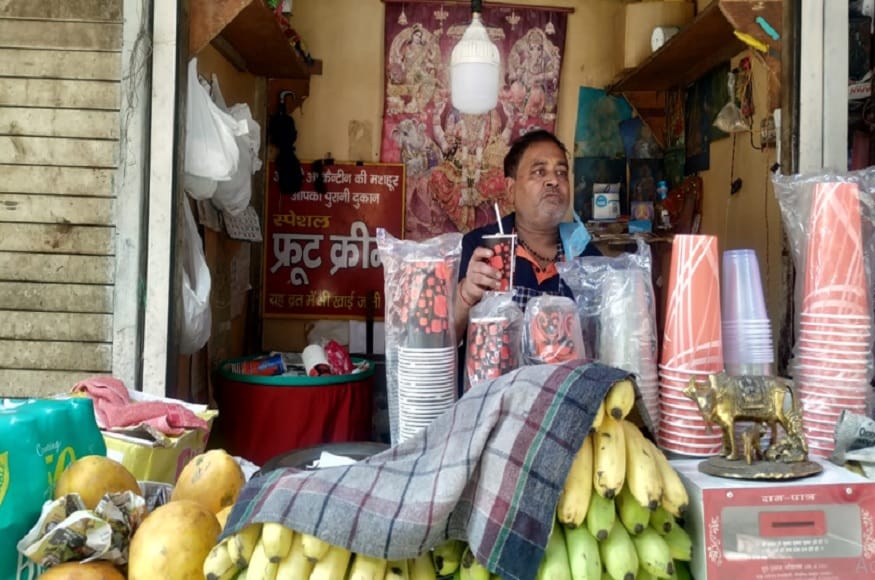 Crowd during lunch time, fasting can also eat and drink this dish
Depending on the size of the glasses, its price ranges from Rs 30 to Rs 80. Since there are government and private offices around ITO, people come from there and 'eat and drink' this cream glass full of adulterated fruits and express a sense of satisfaction on the face. It gets crowded during lunch time. Pure fruit chaat is also sold at this shop, which costs 30 to 50 rupees per plate. This shop was started 31 years ago in the year 1990 by Vinod Kumar. Today son Shanky is also helping his hand. They say that nothing is mixed in it except fruits and cream, that is why even on fasting days people come to eat it considering it pure. The shop is open from 10 am to 6 pm and is a holiday on Sundays.
Nearest Metro Station: ITO
Read Hindi News online and watch Live TV News18 on Hindi website. Know news related to country and abroad and your state, Bollywood, sports world, business.