(Dr. Rameshwar Dayal)
You must have eaten Tandoori Naan, Stuffed Naan or Butter Naan in restaurants. The dark red spots lying on these tandoori naan, apparently white due to the cooking of the tandoor, increase the appetite. They are usually served with chickpeas in restaurants. Today, we are feeding you the 'father' of naan to the chur-chur naan. When this stuffed and crunchy chur-chur naan dipped in butter is served with two types of vegetables, raita etc., imagine how great it will be to enjoy. Such Punjabi food full of taste will be seen in very few areas of Delhi. The eaters say that this food does not make the stomach heavy. To make this dish more moist, there is also a lassi that is soaked in thandai.
Also read: If you want to eat pakodas, then come to Sarojini Nagar, Delhi, 15 types of varieties are present
The ultimate is Chur-chur Naan, Chole, Dal-Makhani and Raita enhance the taste.
We are talking about 'Chawla de famous Amritsari Chur-chur Naan' restaurant on the nook and corner of Multani Dhandha Chowk in Paharganj. Next to it, his family restaurant has also opened in street number-2. There is a lot to eat there, but the fun that comes out of the tandoor is the ultimate. So first talk about this chur-chur naan. Paneer, potato, onion etc. are first stuffed in the flour dough. After that, it is lengthened with the workmanship of the palms and put it in a blazing tandoor. When it becomes crisp after cooking, a lot of butter is poured on it and it is twisted by holding it in both hands. This is Chur-chur Naan. It is served on a plate along with chickpea curry, dal makhani, raita, chopped onions and green chutney. You can also enjoy Shahi Paneer by paying some extra. As soon as their smell reaches in the nose, then the hands cannot stop to eat. The price of two chur-chur naans full of Punjabi flavor ranges from Rs 110 to 170.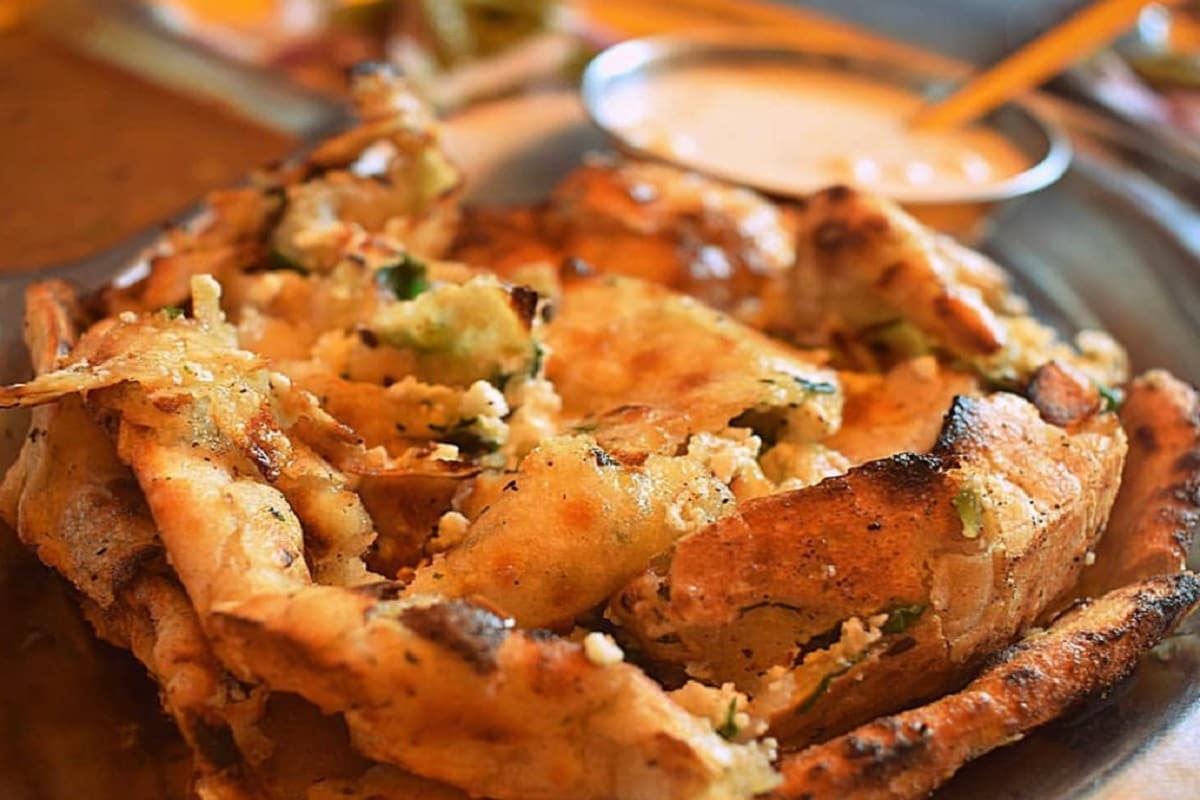 This shop is in Paharganj area
Full of Punjabi flavor and much more in this restaurant
Since the food of this shop is full of Punjabiyat, then you will definitely get lassi along with it. Double the taste of Chur-chur Naan by drinking lassi worth Rs. 50. By the way, apart from the chur-chur naan plate, potato, cabbage, paneer stuffed naan, lachha paratha, missi roti, rajma, dal makhani, lentil rice and chickpea rice are also available at this shop. Their price is between 80 to 100 rupees. The raita of this shop is also earning a lot of name. This raita made in thick curd is available for Rs.100. Half cost Rs 60. Their entire food is infused with Punjabi flavour. If you want to eat Punjabi food then you can travel towards Multani Dhandha. You won't have to be disappointed. Lastly, after eating sweet fennel, the tongue can be kept flavorful for some more time.
The third generation is serving Chur-chur Naan continuously
We told you that this shop is in Paharganj area. There are other catering shops here. But Chawla ji's point is something else. About 35 years ago this restaurant was started by Wazirchand Chawla. Now this shop is owned by his son Manohar Chawla. His son Ajay Chawla also helps in running the shop. They say that the spices which are used in Punjabi food, all those spices are used in all the dishes. This area is very congested and hotels and guest houses are also in the vicinity. That's why the shop is crowded. The facility of packing is also good. The work at the shop starts at 9 in the morning and continues till 10 in the night.
Nearest Metro Station: RK Ashram
Read Hindi News online and watch Live TV News18 on Hindi website. Know news related to country and abroad and your state, Bollywood, sports world, business.