(Dr. Rameshwar Dayal)
When the weather is pleasant, it is raining lightly and the cold winds are bringing comfort to the mind and body, then if one gets to eat delicious cheela, then the pleasure increases further. Cheela is also such which is cooked slowly in desi ghee on coal flame, if there is a stuffing of vegetables and cheese on it, then what to say. Today we introduce you to the 'story' of this cheela. Since this cheela is found in Old Delhi, so you can assume that the taste will be amazing.
Moong dal cheela stuffed with malt is made in desi ghee
This cheela is found at LS Caterers (Lalaram Shrikrishna), a shop in Ganesh Bazar of Fatehpuri's Badi Cloth Market in Old Delhi. The cheela of this shop is famous in the whole area and if someone comes to meet the shopkeepers here, then feeding him this cheela is also counted the characteristics of the food of Old Delhi. Now talking about this cheela, usually gram flour cheela is available in the shops, but the cheela of this shop is made by grinding moong dal. The thick paste of lentils is spread round on a large hot tava (griddle). Desi ghee is also poured around it. Then stuffed peas, paneer, cabbage, potatoes are placed on top.
Also read: If you want to eat 'Liquid Salad' of Fruit Cream, then come ITO, Cream and Fruits have a wonderful confluence
It is baked from both the sides in slow flame. It becomes crispy from below, then soft and full of ingredients from above. Then it is folded and served with green chutney and sweet saunth. This cheela starts dissolving as soon as it is kept in the mouth. The combination of lentils and stuff makes the tongue very tasty. The heart says, there is no answer to this taste. The cost of one cheela is Rs.100.
The tikkis and bread-pakodas are also wonderful.
The potato tikkis and bread dumplings found at this shop are also very special. When they are continuously 'manufactured' on a hot tawa, the smell of desi ghee and these dishes starts flying all over the area. Their potato tikki is not ordinary. Moong dal, pea stuff and spices are stuffed inside this tikki. It is fried till it becomes crisp. The cost of two tikkis is also Rs 100. Bread pakodas are no less wonderful. Stuffed with spices and a piece of cheese in the middle of the bread, it is drenched in gram flour paste and fried. Then it is served with red-green chutney. Its cost is Rs 40.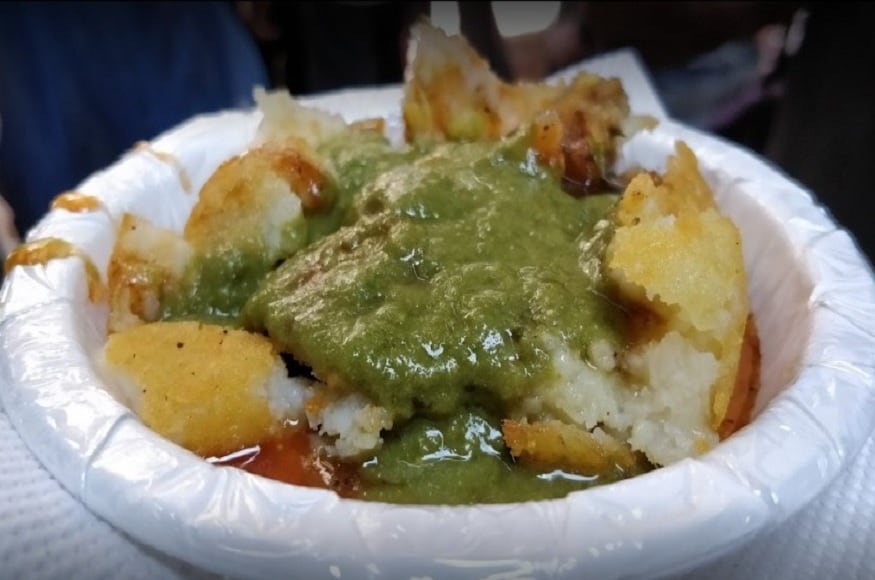 Big businessmen are running the shop due to the connection with the land
LS Caterers (Lalaram Srikrishna) are famous people of Old Delhi, have catered to many family events of businessman Ambani and Adani. Their food is famous even abroad. Despite this, due to the connection with the land, he still maintains this old shop in Old Delhi. Talking about the shop and family, this shop started in the year 1985 but Lalaram, who runs it, started this work in the year 1955. Earlier, he used to sell cheela and potato tikkis on Chhaba in winter in the streets and katras of Old Delhi, and in summer he used to sell Kulfi along with a servant.
Also read: If you want to eat pakodas, then come to Sarojini Nagar, Delhi, 15 types of varieties are present.
He also has a shop near the closed novelty cinema. Where bread dumplings filled with cheela, tikki and paneer are available. The responsibility of this shop and business is now with Lalaram's son Shri Krishna. In this work, two sons Himanshu Gupta and Puneet Gupta also help them. The shop opens at 11 am and the goods are available till 8 pm. On Sundays or on the day when the market is closed, there is also a holiday in the shop.
Nearest Metro Station: Chandni Chowk
Read Hindi News online and watch Live TV News18 on Hindi website. Know news related to country and abroad and your state, Bollywood, sports world, business.