(Dr. Rameshwar Dayal)
We have already told you that Chole-Bhatura has been engraved in the mind and tongue of the people of Delhi for years, that is why there are hundreds of their stalls, stalls and shops in the entire capital. There will always be a crowd of eaters there. Today we introduce you to one such Chole-Bhatura people, who themselves go to the market for their Chole and other dishes and bring whole spices and grind them on the mill in front of them and use them. They claim that their chickpeas prepared with special spices do not cause gas problems. Special breakfast is also available in this shop in the morning. When there is this kind of food, then lassi will definitely be available there.
About two dozen whole spices add life to the taste
This Chole-Bhature shop is in the Shalimar Bagh area of ​​North-West Delhi. The name of the shop is 'Shri Ram Corner.' They describe themselves as the tradition of Chole-Bhaturs of Paharganj. The people who eat at this shop and the orders for packing tell that there is something special. Talking about Chole-Bhature, the shopkeepers say that every week they bring about two dozen standing spices from an old grocer's shop in Trinagar, including thick cardamom, cumin, black pepper, carom seeds, dry ginger, pipli, liquorice etc. Huh. After going to the mill, these spices are ground according to their own accord. Chole vegetable is made from these spices. Tomato puree is not used at all in this vegetable, instead a lot of pomegranate is added. This combination of spices makes chickpeas so delicious. Together, the stuffing of paneer and special spices is filled in the bhature. While serving it, pickles, chopped onions, green chutney and stuffed green chillies are also served. If so much happens, people will definitely wow. Its a plate is 90 rupees. Half plate is also available for Rs.60. If you want, you can get only chickpeas packed for 50 rupees.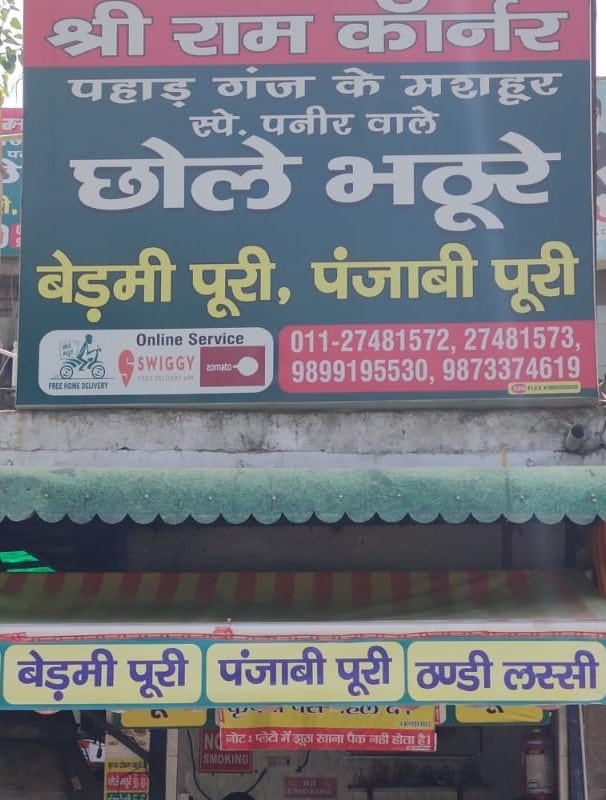 The shop opens at 7:30 am and runs till 4 pm. There is no holiday.
If you go in the morning, you will get breakfast of Bedmi-Puri and Punjabi Puri.
If you go to this shop in the morning, then as a breakfast, you are given different potato and chickpea vegetables along with Bedmi Puri, along with pickles etc. The fluffy Bedmi Puri prepared with special flour and spices of lentils is wonderful to eat. Potato curry also looks like home made. The spices put in it are different from the spices of chickpeas, so the taste of potato curry is also different. Punjabi Puri is also available at the shop, which is slightly different from Bhature. Both are available in Rs 50 plate. After eating this special food prepared from refined, if you drink the lassi of the shop, then the fun of the food will increase manifold. This strong thick lassi is available in 60 rupees glass.
Delicious Chole-Bhatura has been going on for almost 25 years.
This shop is very famous in the area. Apart from this, people from the surrounding also come to this shop throughout the day to eat Chole-Bhatura. This shop was started about 25 years ago. Packing systems were initially sold. The people of Old Delhi and Punjab are also special in the area, so the variety of food was increased together. Rajesh Kumar, who runs this shop, says that satisfying the customer is his priority. That's why people have been coming here for years. Now his son Raghav Malhotra also helps at the shop. The shop opens at 7:30 am and runs till 4 pm. There is no holiday.
Nearest Metro Station: Shalimar Bagh
Read Hindi News online and watch Live TV News18 on Hindi website. Know news related to country and abroad and your state, Bollywood, sports world, business.