New Delhi/Dehradun.
The Kumbh Mela held in Haridwar in the month of April this year is constantly in the news. On the one hand, a controversy has arisen over the fraud of Kovid testing in the fair, then experts have said that this event proved to be a super spreader in terms of the second wave of corona infection in India. But, Tirath Singh Rawat, the former Chief Minister of Uttarakhand, refuses to believe, under whose tenure and supervision the Kumbh was organized. In a recent interview, Rawat said that telling Kumbh the reason for the second wave is anti-national as well as anti-Hindu.
"If Kumbh was a super spreader, why did so many cases keep coming up in Kerala, Maharashtra, Punjab, Delhi NCR? There was no Kumbh happening there." In an interview to news group The Print, Rawat further said, "These are the handiwork of some people… These are the same people who have been against the country and Hindutva since the beginning." Rawat, while talking on other issues in this interview, clearly advocated Kumbh and also said that during his tenure Uttarakhand performed better than the capital of the country against Kovid.
read this also : Earthquake in Uttarakhand for the second time in a month, now tremors in Uttarkashi
Rawat's statement and figures
Referring to such 'propaganda' as a conspiracy to defame the Kumbh Mela, Rawat argued that Dehradun had more cases than Haridwar, while the Kumbh was held in Haridwar! On the other hand, in a survey conducted by Prasyanam, an organization recently, the people of Uttarakhand were asked what they think about organizing the Kumbh Mela. In this survey, 68 percent people believed that organizing this event amid the corona infection was an irresponsible step.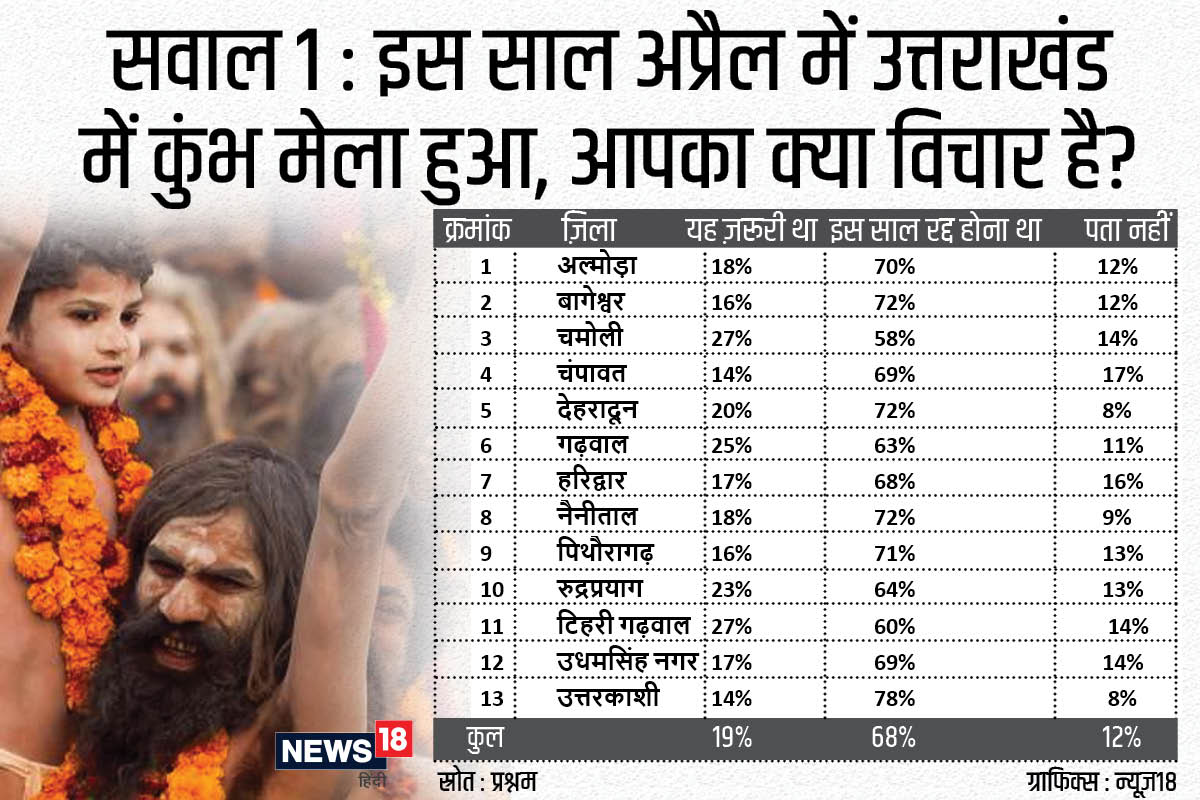 Recently, in a survey, the people of Uttarakhand had expressed their opinion in this way.
'Deaths not due to lack of oxygen'
While talking about the latest issues, Rawat also said that there was no death due to lack of oxygen in Uttarakhand. Rawat claimed that Uttarakhand had supplied oxygen to Arvind Kejriwal's Delhi government, there was no shortage of oxygen in the state. While quoting the news, The Print also wrote that the death of five Kovid patients due to lack of oxygen in a private hospital in Uttarakhand was in the news.
Rawat said some other special things
During this interview, while talking on many issues, Tirath Singh Rawat also did some other important things.
1. The new CM of Uttarakhand, Pushkar Singh Dhami is like my younger brother. I am sure the state will be better under his leadership.
2. There is no discord within the party, all is well. Such things are just rumours.
3. The Congress party has ceased to exist. Making an issue with Pegasus is nothing more than a 'kick the cat pillar'.
read this also : Devendra Yadav said- Harish Rawat is senior, but CM face will be decided later!
It is noteworthy that Tirath Singh Rawat was not an MLA, so he was removed from the post of Chief Minister and on July 4, Pushkar Singh Dhami was made the new CM. In this regard, Tirath Singh Rawat reiterated, 'Many MLAs were ready to give up their seats for me, but due to Kovid, the constitutional crisis arose due to the by-elections not being decided.'
Read Hindi News online and watch Live TV News18 on Hindi website. Know news related to country and abroad and your state, Bollywood, sports world, business.