Bollywood actress Shilpa Shetty is facing difficulties due to Raj Kundra. Raj Kundra has been behind bars since July 19 for making a pornographic film and releasing it on his app. Mumbai Crime Branch has also questioned Shilpa in this case. So far the police have not found any evidence against Shilpa. Even after this, Shilpa has not got a clean chit yet. Along with Raj, people are also trolling Shilpa on social media. Recently, director Hansal Mehta, who stood in support of Shilpa, raised questions on the silence of Bollywood on this matter, after which Richa Chadha stood in support of Shilpa and she tweeted saying a big thing. Gave.
Richa Chadha often expresses her opinion frankly. After Hansal Mehta's tweet, he said a big thing while supporting Shilpa Shetty. Richa Chadha has written a special message in support of the actress, re-tweeting Hansal Mehta's tweet for Shilpa Shetty.
Richa Chadha tweeted and wrote, 'We have made it a game that whenever a man makes a mistake, we hold the woman in his life responsible for everything. It's good she is doing the case. After this tweet of Richa, different reactions of people are coming out on social media.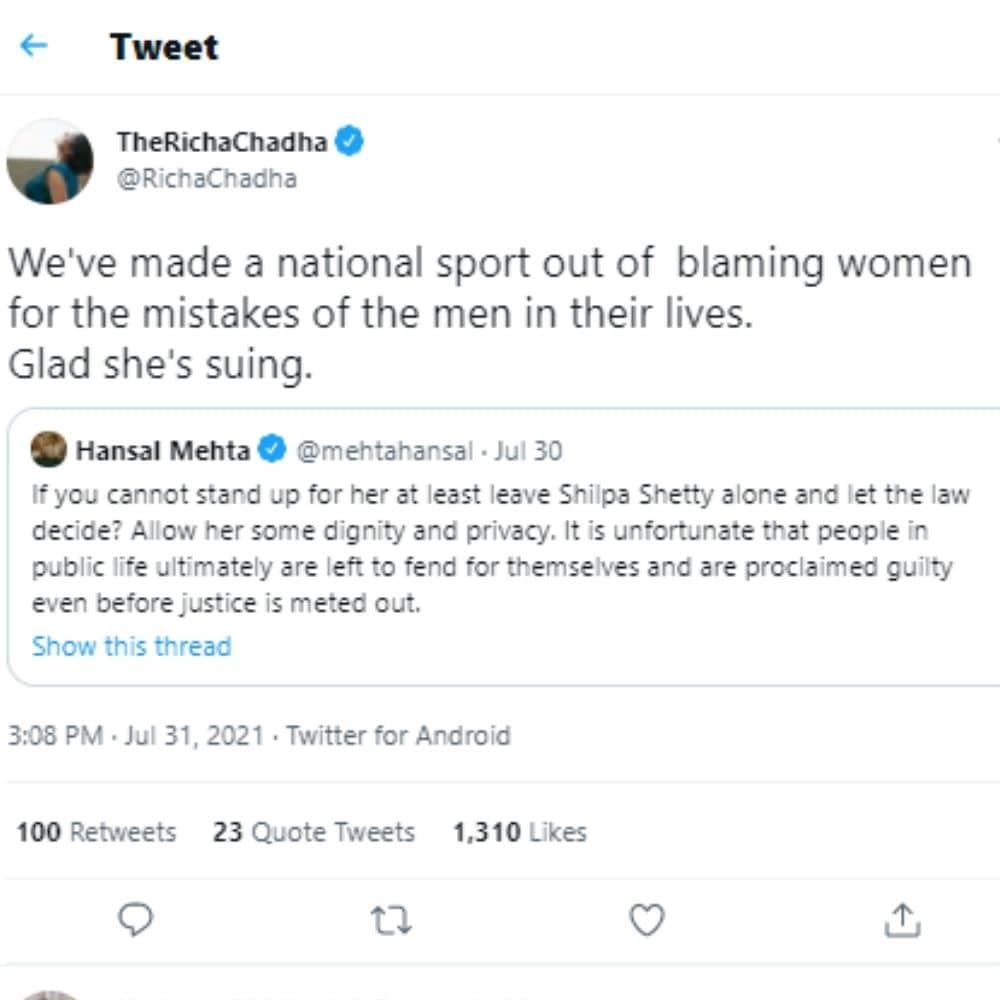 Hansal Mehta had earlier tweeted that if you can't stand with Shilpa Shetty then at least leave her alone and let the law decide? Let them live with dignity and privacy. It is unfortunate that people who are public personalities are left to defend themselves and are declared guilty before justice is served.
Read Hindi News online and watch Live TV News18 on Hindi website. Know news related to country and abroad and your state, Bollywood, sports world, business.