Mumbai. Hindi film lyricist Manoj Muntashir is once again seen in controversy. He is known for speaking out his point of view. He has been accused of stealing the poem 'Call me'. This poem was published in Manoj's book 'Meri Fitrat Hai Mastana' published in 2018. Some people have alleged on social media that his poetry is not original.
These people have written on Twitter that, Manoj has published a poem titled 'Kaal Mee' from Robert J Levery's book Love Lost: Love Found in 2007 and printed it as his poem. Earlier, he had released a video comparing Mughal emperors with 'dacoits', about which he had come into controversy.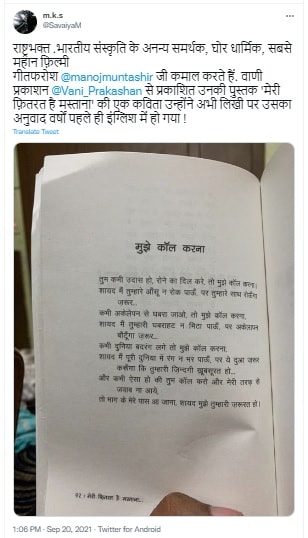 A tweet alleging copying.
As soon as this news came on social media, people started trolling Manoj Muntashir. People are calling this work of Manoj as immoral. Social media users are giving different types of arguments in anger. People started asking on social media why Manoj is not answering.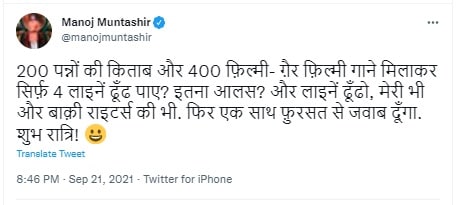 Manoj Muntashir's tweet.
Manoj Muntashir has given his point in a tweet made on the night of 21 September. In this tweet, he has written that, 'Could find only 4 lines from a book of 200 pages and 400 film-non-film songs? so lazy? Find more lines, mine as well as the rest of the writers. Then I will answer at leisure together. Good night!'
This poem is featured in Manoj Muntashir's book 'Meri Fitrat Hai Mastana', which is published by Vani Prakashan. As the controversy escalated, Aditi Maheshwari of the publication said, 'We will wait for the author's official statement regarding copying.'
This is Manoj's poem 'Call me'…
'You're ever sad, feel like crying, call me
Maybe I can't stop your tears but I will definitely cry with you
If you ever get scared of loneliness, then call me, I may not be able to erase your nervousness, but I will definitely share loneliness
call me sometime the world looks bad
I may not be able to fill the whole world with color but I will definitely pray that your life is beautiful
And sometimes it happens that you call and there is no answer from my side, then come to me, maybe I need you.
Robert J. Levery's 2007 poem Call Me…
If one day you feel like crying…
call me
I don't promise that
I will make you laugh
But I can cry with you.
If one day you want to run away
Don't be afraid to call me.
I don't promise to ask you to stop,
But I can run with you.
If one day you don't want to listen to anyone call me
i promise to be there for you but i also promise to remain quiet
But… If one day you call and there is no answer… come fast to see me..
Perhaps I need you.
Read Hindi News online and watch Live TV News18 on Hindi website. Know news related to country and abroad and your state, Bollywood, sports world, business.