Gold Deposit Scheme SBI Revamped Gold Deposit scheme
Keep gold in the bank not in the vault, interest will be earned, SBI has a special scheme
Gold Deposit Scheme: The luster of gold locked in the safes of the house or in an old box starts fading. It has to be taken care of from above. Some people keep the gold imprisoned in the locker of the bank. With this, your gold becomes safe, but it does not get any return.
If you want that the gold that you have collected through your hard work remains safe and earns some income from it, then State Bank of India has come up with a scheme for you.
In SBI's gold deposit scheme, you can deposit gold in the bank at home or in the locker, and you can also get interest every year according to the value of gold. This will have two benefits, one will keep your gold safe and secondly, you will continue to get some amount every year from gold.
The country's largest bank State Bank of India has come up with a great scheme for its customers. The name of this scheme of SBI is Gold Deposit Scheme. The bank has relaunched it under the name R-GDS. This is called Gold Fixed Deposit Scheme. In this scheme you can deposit the gold kept in your house in the bank. In return, the bank gives you interest.
There are many benefits of SBI's gold deposit scheme. The first is that your gold in the bank will be safe because the responsibility of its security will be on the bank. Second, you can also earn from your gold.
Under the Revamped Gold Deposit Scheme (R-GDS or Revamped Gold Deposit scheme) of State Bank of India, interest is earned on gold by keeping it in the bank. For this, you have to deposit at least 30 grams of gold in the bank. Any amount more than this can be deposited in the bank.
You can keep gold in three ways
Under SBI's Gold Deposit Scheme, there are three options for keeping gold in the bank, Short Term Bank Deposit, Medium Term Government Deposit and Long Term Government Deposit).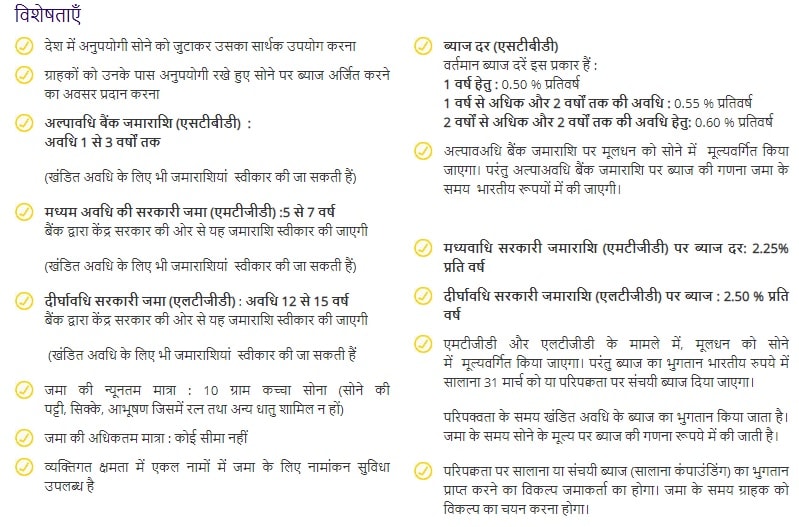 In short term bank deposits, gold is kept for 1 to 3 years. In medium term government deposits, gold is deposited for 5 to 7 years and in long term government deposits gold is deposited with the bank for 12 to 15 years.
The interest on your gold on short term deposits ranges from 0.55-0.60 percent. Interest of up to 2.25 percent is available for holding gold for the mid-term and 2.50 percent interest is available for holding gold in the bank for a long time.
Under this scheme, to keep gold in SBI, you have to submit your identity documents to the bank. In this, information about identity card, home address etc. has to be given. Under this scheme, you can deposit your gold by filling a form.
For complete information about this scheme, you can visit the SBI website www.sbi.co.in/portal/web/personal-banking/revamped-gold-deposit-scheme-r-gds.
Read Hindi News Online Watch More Live TV News18 on Hindi website. Know related to country and abroad and your state, Bollywood, sports world, business News in Hindi.