Mumbai. Bollywood actor Sushant Singh Rajput is no longer in this world, but his fans still remember him. Under suspicious circumstances, his body was found on 14 June 2020 in his apartment in Bandra. It has been almost a year and 4 months since his death. The truth of how he died has not been revealed yet. Sister Shweta Singh Kirti has written a post by sharing a photo of her brother Sushant from her Instagram account on Wednesday. Sushant looks very happy in the photo. In this post, Shweta has prayed to Maa Durga that, mother, let the truth of this matter come to the fore, so that our hearts can get some peace.
Remembering Sushant Singh Rajput, Shweta wrote in the post that, 'You were our pride, you are our pride and you will always be our pride! Look how much love is there for you in every heart.. They are fighting tirelessly for you! I pray to Maa Durga… 'Mother, let the truth come out, so that our sorrowful hearts may find some peace.'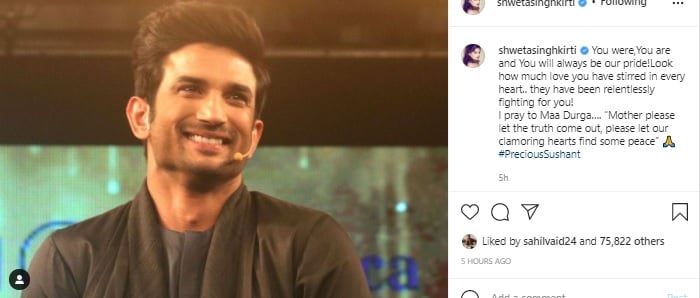 Shweta Singh remembers Sushant Singh Rajput. (Photo@shwetasinghkirti/instagram)
The investigation of Sushant Singh Rajput death case was earlier done by Mumbai Police and Patna Police. After this, with the request of the Bihar government and the order of the Supreme Court, the CBI started investigating this case. Sushant's family and his fans want to know the truth about the actor's death.
The Dadasaheb Phalke International Film Festival Awards 2021 was organized in Mumbai on February 20 this year. In this, Sushant Singh Rajput was posthumously awarded the Critics Best Actor Award. He was given this honor for Sushant's last film 'Dil Bechara'. Sushant did a very strong emotional acting in this film. His acting brought tears to the eyes of many viewers.
Read Hindi News Online Watch More Live TV News18 on Hindi website. Know related to country and abroad and your state, Bollywood, sports world, business News in Hindi.